Ruthaaashiq ko kudrat k Aashiq ne "poem on nature in english" send ki hai. Choti choti kudrat ki baate aur usse sahaj prem hum me ek alag positivity le aata hai. Pyar, mohabbat, dhoka ye sab ko chodke bhi jab ruthaaashiq ko aashiqui dikhti hai, toh lagta hai….Har aashiqui ruthe ye jaruri nahi.
Poem On Nature in English
Jiska connect hai na kudrat se aur emotion "poem on environment' ke form me aaj bhi chalak rahe h, wo hi kuch zindaa hai..Baaki cement ke jungle aur insaani race me theher ke "beauty of nature poem" shayad school ki kitaab ke baad kho si gayi thi…Crowd me se iss writer ki nature poetries padhkar , aap bhi nature ke aashiq ban jaoge.
Bird's song
Every day the sun rises and shines,
Smiles upon us in the darkest of times,
Every day the flowers blossom,
Their bright face, give us new hope of making our life awesome,
The cool, morning breeze touches our faces,
Making us realize how beautiful we are, it embraces,
The birds chirp happily and sing their song,
Giving us the message that we are very strong,
It further sings it song that goes like this,
Let's all sing together with bliss,
While walking slowly through nature's lane,
C'mon, there's no time to sit and complain!

And, so here's how it goes…

"We never forget to see our life's sadness,
But turn a blind eye on all our happiness,
Those beautiful moments that make our life worthy,
On the world, let's show some mercy,
Let's stop taking revenge,
Let's refuse hatred,
Let's make this world like heaven from hell!
Let's be like nature who never stops its work,
Let's get our life going on, with enthusiasm and one, last jerk!"

Morning comes with its cold beauty
The wind blows beautifully and smoothly
Creation
Have you ever looked up at the stars, embracing the warm air?
Feel the lovely sense and longered into a silence
The stars are twingkling every night and day
Hearing the God's nature, trust his way
Environment with crisis, this is terrible
Night and day with tranquility, must be sustainable
Vigorous lifestyle, that's what we need
Incredible surrounding, without global warming

Rainforest should be protected
Our environment should be sheltered
No to destruction, yes to protection
Man of God, see the beauty of horizon
Enlighten the world, without using a sword
Nature is a blessing and it must be love
Disaster, calamity that's when we lost the unity
What we need to have are prayers and solidarity.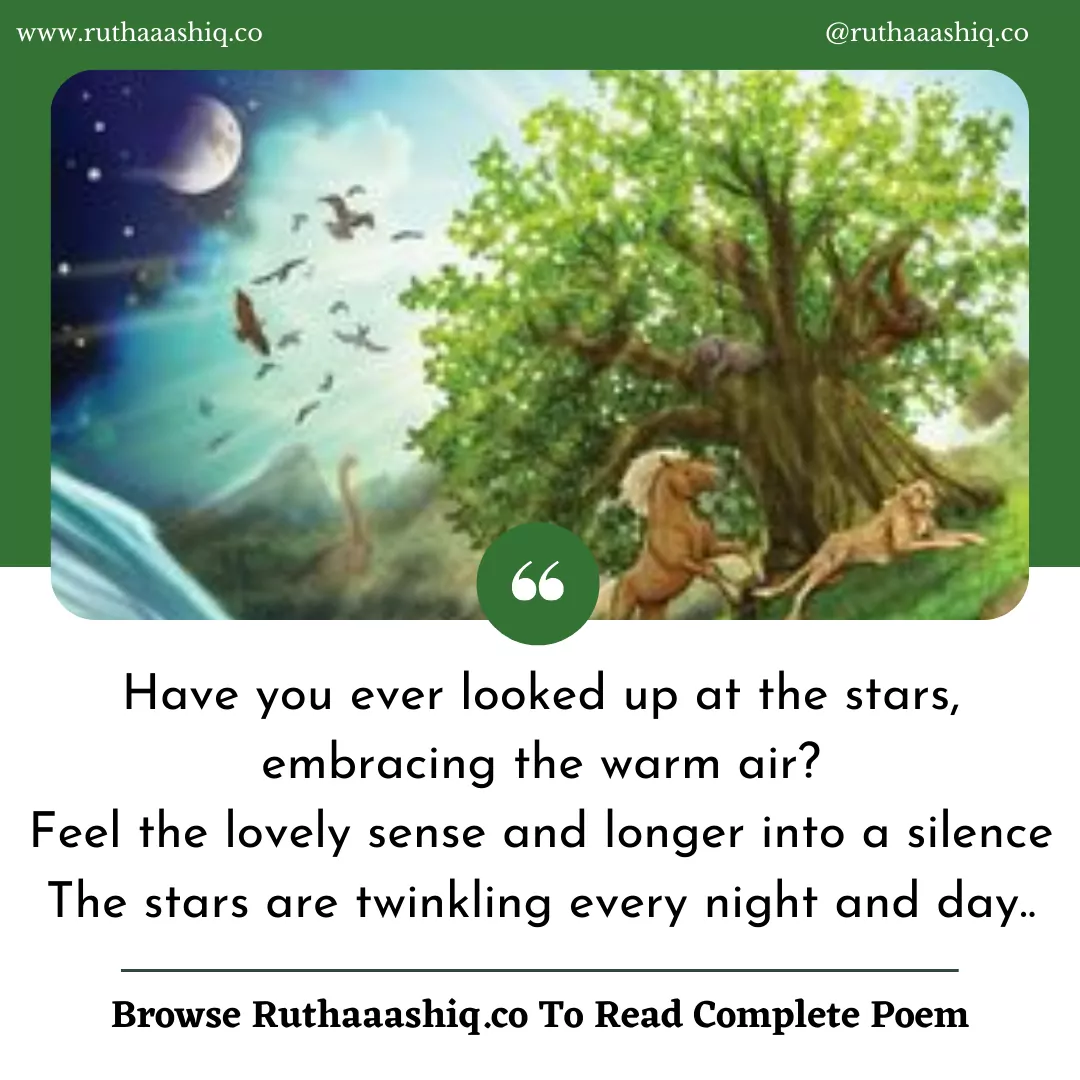 Reed
My flute was made of the reed,
With beautiful rhythms spreading around the town.

I walked along the bank,
Looking at your living places with gladness.

No matter how infertile you grow up,
You are still flicking near the bank.

A poet picked up one of your stems,
Making it a pen to write down his or her poems.

Words and sounds are mixing with beautiful melodies,
Echoing on the land and passing to the heaven!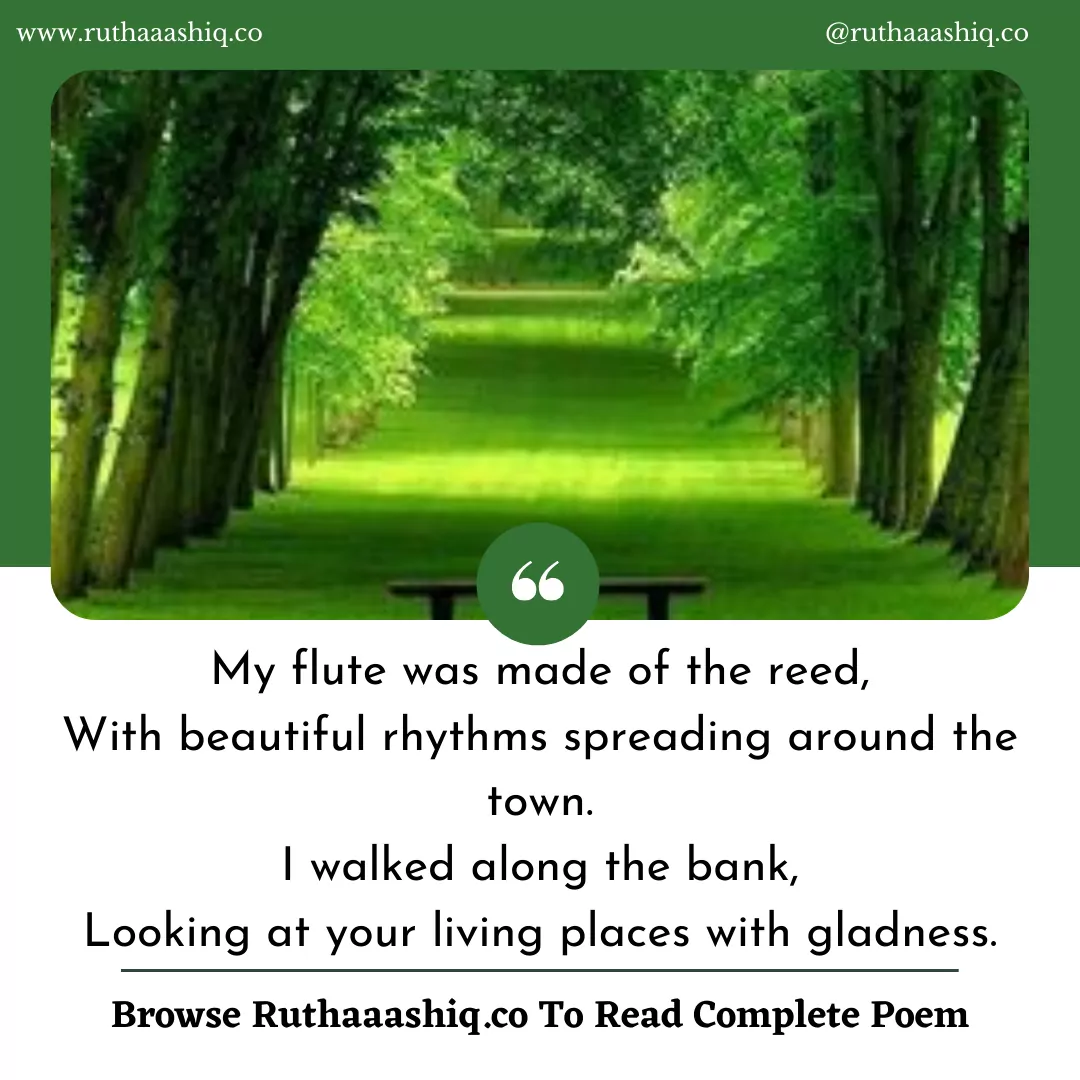 Song of Four Seasons
My heart is beating in the spring,
With a bird singing with its gladness.
Experiencing the sorrow and happiness,
Wishing the dream could become real.

My voice is spreading at the town in the summer,
With a grasshopper dancing with its movements,
Enjoying the unique atmosphere,
Hoping the wonderland can be found.

My sound is caught by the fall,
With an ant working hard for survival,
Competing with the colder weather,
Cherishing the sunrise and sunset at that moment.

My life is fading away in the winter,
With an eagle flying toward the south,
Soaring up in the sky,
Diving on the land with its pride.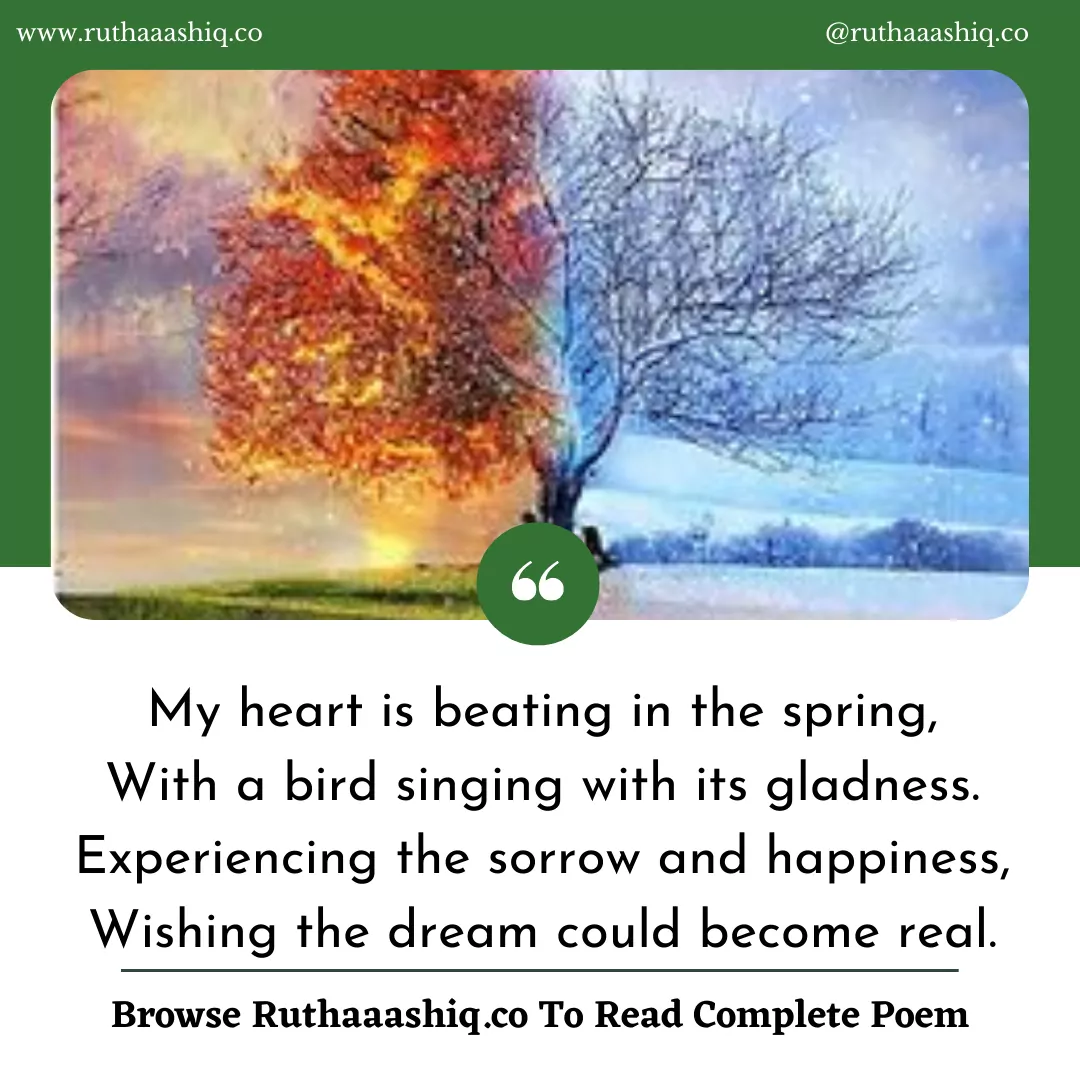 Plum Tree
On the crest of a green hill,
There stood a firm solitary plum tree.
The story trunk coated by dense cellulose,
The reedy branches diffused in the air,
The pinky buds hanged on the twigs.
The early blossom opened for the visitors;
The bees, butterflies and varied insects.
The moody cloud crying from above.
The tree looked lively and heavenly as ever.
The sweet fruit has yet to bear.
The entire scene looked natural
And perfectly beautiful.
Must Read:- English Poem On Teenage Life
School syllabus me "Poem on Nature in English" jab teacher padhkar nature ki baate samjaati thi tab bahut dil karta tha, esi jagah ko aur explore karein..Tab beauty of nature poem ki jo feel hai wo wapas feel hone lagi hai. Sad aur ruthi aashiqui me jaise "poem on environment" me alag sukoon ki khoj jaag gayi hai. Garden, mountain, sea shore me rehke saare dukh dard heal jaate hai.
Moon
The long distance is between you and me,
Like the moon hung in the sky.

My master is an excellent person,
Who leads my country to become stronger.

The more prosperity my country gains,
The more pride I feel from my heart.

The general and the monarch are looking at the moon,
They wish that the war would not happen again.

People will not cherish the peace,
Until they lose it.

They realize that peace is the most valuable thing in the world,
Not the fortune.
The Wind and The Fields
As the wind blowing the last leaf off the tree
Autumn has ended, but Winter began as bye to yellow and green.

Children running and playing in the fields,
As the cold breeze on the skin give you the chills.

Be astound and feel the cold,
As come the wind but standing in the fields.

Brace and seek the moment as it will come,
Let the winds blow but soon be done.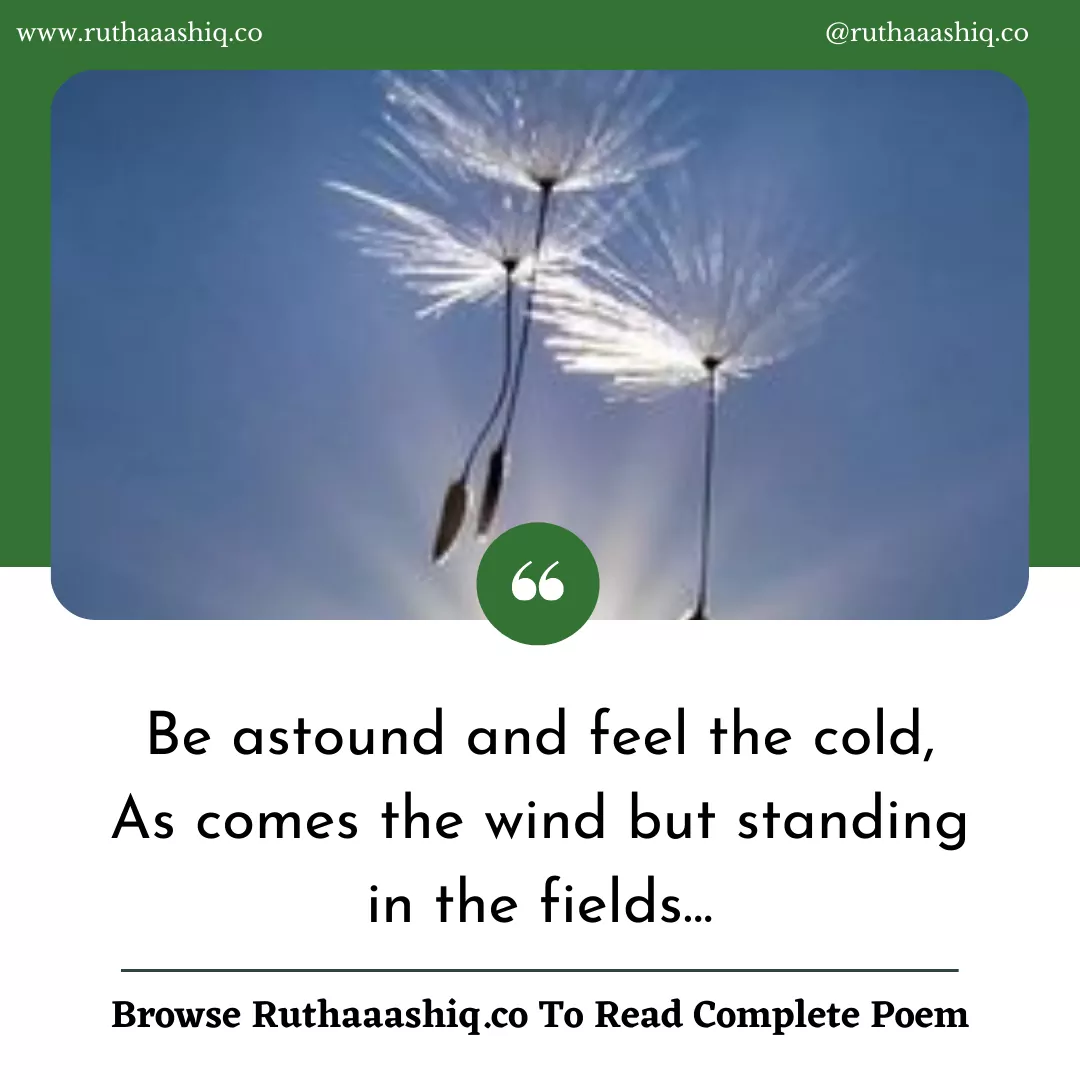 Rice
Crops are glittering in the fields,
Waiting for their master to harvest them.

The sweet rice wine is too attractive to avoid it,
Drink it like the bejeweled nectar.

Farmers wish that the Almighty could take pity on their crops,
Let them grow up smoothly.

When the Autumn is approaching,
Farmers are cheering themselves up because of the big harvest.

Everyone is getting together with his or her family or friend,
Enjoy the gladness and blessings from the Almighty.
Nature's Spell
I awoke in the middle of the forest
No gnashes, no scars
Not even scratches of interest
I see nothing with this nakes binoculars

Wait, I see nothing
I feel nothing
My heart began to pound
Crazy ideas began to run around

Deep inside I knew
I had to keep my calm
I whispered to my heart
Lest my poundings renew

As my heart began its calm
My mind followed suit
For a while this will keep me from harm
Still, what is happening, I have to unroot

I silenced myself
I kept myself still
I began to observe what's around thyself
And instinctually, I knew this was real

Still, my hearing amplified a little
Then, I noticed the soft wind blowing
A few birds were chirping
Leaves were definitely rustling

Now, this was me being stupid
Panicking for nothing
Yes, the cause was like an arrow from cupid
I fell asleep whilst relaxing

I opened my eyes
What greeted me was a real sight for sore eyes
A song made by the leaves and the birds
A nostalgic scent brought by the wind

Small, little things taken for granted
Just like a passing sound
Yes, I panicked
The cause: mother nature had me bound
I am not cold blooded
I try to show change but my changes means nothing but a little less

I am living to be what I was meant to be but all it means is less

I try to be a difference for the past trauma I endured for so long but yet still hear the word means less

I want to try to talk yet I am treated like the poison a Vail that leaves you toxic

I am not a cold blooded but I am real you can not see me for what I am

I am a real and true soul with heart that changed by releasing

I throw the Vail away toxic emotions and toxic people that drained

I almost threw myself away to get away from the pain

I neglected her I put her down and I punched her out of even giving her self love

I couldn't control the very thing she was battling and her voice left silence away
Milkyway
The white milkyway is in the sky,
Like a scar on the surface of an old man.

He prays God's forgiveness and pity,
Known by his behaviors and creeds.

Listening to the sound from the Almighty,
Like the crying of a lost lamb.

He wishes that his dream could be brought to the sky,
Accompanying the lonely Trinity in the heaven.

O' Heaven and Paradise,
Drunken by your best environment and atmosphere.
Aap bhi agar "poem on nature in english" padhte padhte apne koi collection ko yaad kar baithe toh blog ke whatsapp icon me hume message karke bhejiye. Beauty usne hi dekhi ya samji hai jisne choti choti baato pe gaur kiya ho…Ek ek baat ko minutely dekh paane ka sukoon alag hai…"Beauty of Nature Poem" ki yahi beauty hai.
Writer:- Pallavi (@pallavideepchand)