Trending Whatsapp Status In Hindi, English
"Trending whatsapp status" me aajkal sab tarah ke content users add karte rehte hai. Shabdkhoj ke liye Rutha Aashiq, Words of magic writing community me bhi apne events leke local writers ke gine chune content blog me pesh karne laate rehta hai. Kuch logo ne "trending shayari in hindi" likhi aur alag alag participant's ne "new trending status" me short poem aur free verse write up apne dil ki free writing experience se submit kiya hai.
Trending Whatsapp Status In Hindi
तुम्हारे एक लम्हे पर भी मेरा हक नहीं
ना जाने तुम किस हक से मेरे हर लम्हे में शामिल हो.
बस यही गुमान बस यही गुरूर रहता है
तू जुदा ही सही पर दिल में जरूर रहता है.
लोग इतजार करते रह गये
कि हमें तूफान हुआ देखे
और हम थे कि सहते सहते
पत्थर के हो गये.
उनको भी हमसे मुहब्बत हो
जरुरी तो नहीं, इश्क़ ही इश्क़ की किमत हो जरूरी तो नहीं.
दर्द को मुस्कुराकर सहना क्या सीख लिया…..
सबने सोच लिया.,
मुझे तकलीफ नही होती.!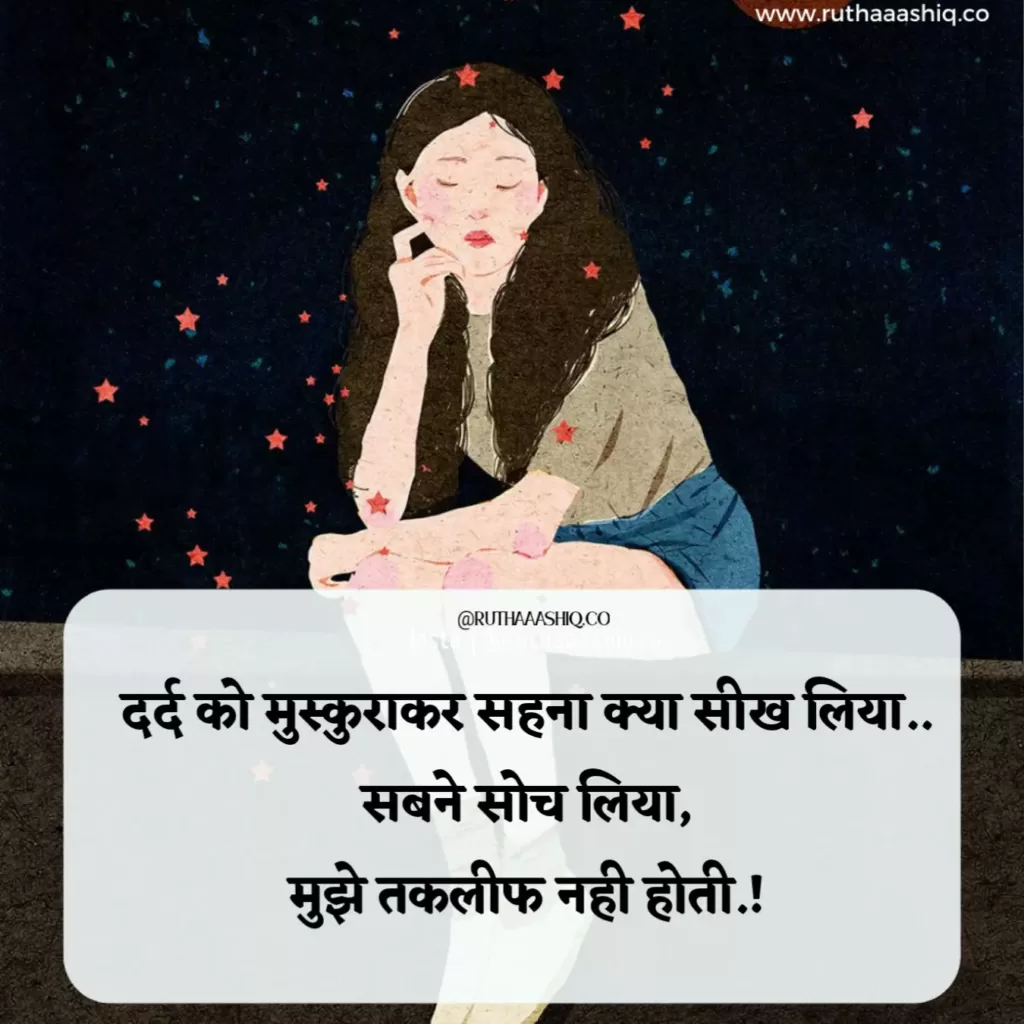 Writer – कविता मोदी
सही क्या गलत क्या राह दिखाए।
मन का आइना हमें चलना सिखाए।
बताए हर हाल हक़ीक़त ये सारी।
सुधारता यही गलतियों को हमारी।
Writer:- Rashi BihaniRashi Bihani
ये नशे का दौर है जाम बनकर छलक जाएगा…
मेरी खामोश धड़कनों का शोर दूर तलक जाएगा,,
मैं हूं एक आईना जो लफ्जों से सच बयां करता है,
न कर कोशिश पत्थर मारने की ये टूटकर भी खनक जायेगा।
Writer:- Emtiyaj ansari
Khamoshi chha gayi uske chehre par jab maa chali gayi usko chor kar,
Kuch yun khil uthi woh..
Jab usne bas apne baba ko pehli baar dekha tha.
Kuch rishte hote hi aisa h na hi bayan karsakte na hi bata sakte.
Writer:- Shaheen
Kaat gayen saar zamin paar
Uthar gaye jung ke maidan mein
Laafzoon par tha wo ek Bharath ka naara
Udhaya parcham tiranga kaa
Us safeed chaadar par….
Writer:- Mohammed sohail
Jab hum crowd se " new trending status" jaise general themes laate hai, toh hum chaahte hai ke har kisi ke apne identity present karne apne "whatsapp trending status" me jaise apni alag pehchaan hoti hai wese hi , My Touch wala content aap hume bheje. "Trending shayari" woh hi hoti hai , jisme khaas touch ho.
Must Read:- Adhura Pyaar Shayari
Desi writer hote hue, isme 2 raaye nahi ke Rutha Aashiq ko "trending shayari in hindi" hi pasand aayi hai. Ha har submission ko welcome hai. Thode bahut guidelines jarur hai, lekin hum submission aur content ke raaste aapke liye ban sake itne open karna chaahte hai. Sunne aur sunaane k iss safar me, lafz ki jugal bandi pesh karte hai kyunki har kisi ko mauka milte rahe aur un shabdkosh ko naye alfaaz aur nayi audience bhi milti rahe. .
Trending Sad, Love Hindi Poem
ज़रूर चलूंगी तुम्हारे संग..

हाँ ज़रूर चलूंगी तुम्हारे संग
जो इतना प्यार मिला तुमसे
बेशक किसी और से न मिलता मुझे।

हाँ ज़रूर चलूंगी तुम्हारे संग
एक तुम्ही तो थे उस वक्त
जब मुझे एक साथी की ज़रूरत थी।

हाँ ज़रूर चलूंगी तुम्हारे संग
क्योंकि हर पल
तुम्हारे संग ही तो सुकून मिला मुझे।

हाँ ज़रूर चलूंगी तुम्हारे संग
क्योंकि वो तुम्हीं हो
जो अब ज़िंदगी में सब कुछ बन कर आए हो।
Writer:- SIDDHI VERMA
Insta ID:- sssquotes_1304
ओंस की बूंदे हैं , आँख में नमी है , ना ऊपर आसमां हैं ना नीचे जमीन है।
ये कैसा मोड़ है ज़िन्दगी का, जो लोग खास है उनकी ही कमी है।
मन की बात कहाँ निकाले, कोई जरिया नहीं मिलता।
किसी से नजर नहीं मिलती, किसी से नजरिया नहीं मिलता।
तुझको बेहतर बनाने की कोशिश में, तुझे वक़्त ही नहीं दे पा रहे हम।
माफ़ करना ऐ ज़िंदगी, तुझे जी नहीं पा रहे हम।
Writer:- डॉ.श्वेता सिंह
शीशे का महल, पत्थरों का शहर।
दौलत का नशा, ज़माने से बेखबर।

तासीर मुहब्ब्त की, उसपे तीखी नज़र,
लबों पे चाशनी लिए, कांटों का सफर।

रखते हैं ख़ुद को बुलन्दी की ताक पर,
निकला है गाँव से, कहता है ख़ुद को शहर।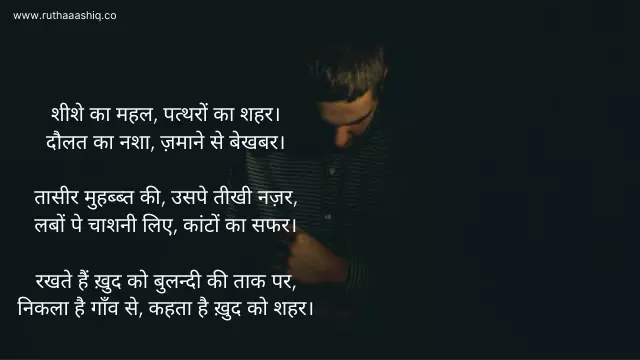 Writer:- Nilofar Farooqui Tauseef
"जान हो तुम "
जो मिटाने से भी ना मिटे वो लिखावट हो तुम,
दूर होकर भी पास हो वो परछाईं हो तुम ,
भूली ना जा सके ,दिल में छुपी वो मूरत हो तुम,
भिगोए ना जो , ओस की वो बूँद हो तुम ,
छेड़े ना जिसे ,सात सूरो की सरगम हो तुम ,
जिसका किनारा ना हो , उस दरिया का साहिल हो तुम,
रहते हो आसमान में , कोई छू ना सके वो उजाला हो तुम ,
महकाये दिल का कोना ,वो एक एहसास हों तुम ,
अगर आँसू हो आँख में , वो अश्क़ भी चुरा लेते हो तुम।
देते हो हमेशा साथ मेरा , जैसे मेरी रूह में बसे हो तुम।
Writer:- Dr Aditi Dev
Yahan kon kisi ki pakizegi janta hai.
Kuch Log tanhai mein gunah kr k bheer mein pakiza banty hain to kch log bheer mein apni tanhai ki naikio ko chupany k liye bheer mein khamosh rehty hain.
Writer:- Nukhba Maryam
Random readings me jab hum sabke saath ghoom rahe hote hai, hume "new trending status" me aap audience ke jazbaat pata chalte hai. Ek humare original shabd ki kahani dete dete , aapki kahaani lete hai toh hume insaan ke aur bhi pehlu milte rehte hai. Rutha Aashiq ese local me special kahaani jaanne hamesha bheed me rehna chaahta hai.
Kabhi kabhi bahut ache content hote hai aur kabhi kabhi bahut ajeeb words hote hai. Scroll karte hua khud ki zindagi ke bhi bahut paase yaad aaya karte hai. Ab toh aap logo ke shabd goonj me listening power ese badha hai, ruthaaashiq, aapke shabdo ke bina adhura ho jayega, trending whatsapp status ;
Trending Whatsapp Status In English
In the world of precious gifts, roses, chocolates, date
I just only craved for your presence, your voice and your messages, and nothing more.
Because I love you more than you loved yourself.
Writer:- Rheddhima Mondal
Life is a very beautiful and precious gift,
Which in every situation helps us to lift.
Life is full of memories,
Which we should freeze.
And it should be enjoyed with full swift.
Writer:- Rashi Bihani
In a world full of choices,
Never chose to suffer,
Never chose to beg,
Never chose to be an option when you can be a priority,
Remember you were made special,
And you're special to the one who's special.
Writer:- OtipiThePoet
Your vision for life explains how you are living your purpose. Make your vision so intimidating, that fears become irrelevant. Don't let fear or few setbacks stop you from reaching your goals. Adjust your focus. Create the grandest vision possible for your life, because you become what you believe, the image you visualize, and the actions you take. Never bury your thoughts. Believe in your vision. Trust yourself and be courageous to put your vision to reality.
Writer:- Kaushiki Sarkar
Title: The world of lost people!

Where the roots hang up in the pinkish lavender sky,
Under which, the green river of memory resides,
Wherever I walk, I can feel the cold and soft touch of grass,
There are no walls, just circular upright standing mirrors of glass.
There are people walking but they are not humans,
Their eyes are rolled up with no pupil, they don't talk,
They just walk randomly in any direction,
As if they have no memory and are lost!
There is a carpet of fog on the grass,
And other objects are still in the sky,
There is no sun, yet it is not dark,
I cannot describe the place, there is no landmark.
I don't know why I am here,
Wait, I can't remember the time,
My pupils are rolling up to head suddenly,
A moment ago, was I trying to rhyme?
Writer: Yukta Hindurao Rane
Insta handle: little_magic_of_words
My first you

The day you held flowers for me,
the day we built towers in glee.

The first sight on the rolling wheels,
the first fall on you through my heels.

The fights we had in stinginess,
the glow you saw in my dinginess.

My first tear on your lap,
like the dew on lotus' trap.

My first smile on watching you,
when i didn't care who I'm talking to.

Your first touch of shy sight,
our silly talks on mall's height.

My first winter in your couch,
our first sip of summer's sip.

The firsts always remind me of you,
Your laughs, your tickle and your first blue.
Writer:- Aditi Singh
Ig- unspoken4583
From a great man, he has become a usurer, now a moneylender.
Corruption is not in words now, it has been in everyone's mind.
The playground is full of weeds, Mora is busy playing video games,
Leaving the former, Dugga is now accustomed to the modern.
In acknowledging greed, the tiger lion will become extinct,
Drinking water and plants will now find a place in the museum.
The body's eyes ate all the ultra-violet rays,
I take a handful of medicines regularly, and at the end, I eat them.
We left home and settled down, we are now in the flat,
I have become three out of two, trimming one by one.
Mother-in-law, mother-in-law is the next father-mother, let's see why they –
Whose property do you say before you die?
Thousands of dreams came, fire-witness,
At the pressure of fifteen, how many targets are burning in that fire?
At the end of life, there is a place for the old man in the corner of the ashram,
Money arrives at the end of the month, on the phone after receiving the news.
Crossing the sky, I reached the moon,
How many people fell into the trap of the untouchables.
Insult in love, admit acid, how many faces burn,
Sepoy fighting on the borders of the country, deprived of all happiness.
The house next door has been robbed, shut the door,
At seven in the morning, I will do aha uhu just Tarja.
Everyone is fighting in the name of caste, how many people are dying,
Lighting candles in the name of peace, all the lanterns are flying.
Thousands of rupees fly, at the end of the day with alcohol,
Three children die of starvation in our country.
In the fake world of finding the real logistics –
At home now Mirzafar, Netaji is born only once.
Be careful, be careful, don't forget destiny,
The repetition of history will be ensured in the life cycle.
Writer:- Debanjali Adhikary
"Truth, falsity, it's all subjective at the end of the day,
The bottom line that decides the fate is the purity in intention behind our actions."
Writer:- Yukta Hindurao Rane
Excuses create illusions that will make you think you did all you could.
These illusions are destructive for every goal that you set yourself to achieve.
Don't excuse but admit.
Writer:- Anishka Nayak
HER LIPSTICK

Love, danger, hate, and union,
All glued on one body.
Deliciously prepared by sorcery for his downfall,
The irresistible blueberry on her lips.

One thing must kill a man,
And another spill his blood.
And one of the kingmakers must die,
To tell the King's death story.

Love is about to have his beauty bows cut,
To prove love for satisfying lust and deceit.
Pain, defeat, and denial,
All from the face and its stick.

Joyful moans and painful scoffs.
The glory of the serpent and folly of Eve
The mistress ending the union, cutting onions,
For the wife to be retired and drained.

The color of love and strife,
All she has as skin to her lips,
To end and begin another life,
Her means of living to bring new living.
Writer:- Jossy writes
Laying on the bed with a heavy heart,
Eyes getting red with tears.
A drop of tear moves to cushion,
And asked me what has happened, dear!

My heartbeat getting raised,
I'm crying, crying, and keep crying.
But cushion wipes my tears so delicately,
That provides me a comfort zone!

It vows me to digest my words,
Never come to light my heart's words.
I burst out then my emotions,
And break the ice before it.

I keep my soulful statements,
And all plaintive things that hurt me.
A soft cushion hugs me close,
It feels me tons of relief !!
Writer:- Saloni Gupta
Kiss me with the kisses on your lips.
I fell for that lie and I live to regret it.
Those wide extended hips
Played hard to get…
And having them finally was a great achievement
But the speed we're at is frightening
Chasing prey as we pray
Bless our daily meal
Is all we could say…
Little did I know that every black spot
On that brown coat meant harm….
Leaving my back with scars
I felt your scars around my neck…
Long claws on my feet
But I remained faithful to you…
Followed U like V in the alphabet
I bet being stabbed hard is my pension for trusting a cheater
Calling you mine even when those long canines pierce my neck
Trying to suffocate me
I'll live to love the cheater I fell for
Four times in this relationship
I know your Ex/X got rejected
But mine still counts thanks to electro commission…
Watch out for the update…
And up to date… You should know
I'll still remain faithful to a Cheater.
Writer:- Menace
Title: Among the Stars

Surely it was forbidden,
Loving someone like her was a grave sin.

The sun always shone deep in her eyes,
They hid their feeling until they started believing their own lies.

Once affirmed, it was like a trance,
And there was no end to their secret romance.

Oh! But it was soon discovered, within a blink,
Revealed they were, soon in his own head he started to sink.

Oh! Did her father not take it well,
Lonely and scared he was forced into a jail cell.

"For the sins, he committed he shall pay",
His fate was sealed, there was nothing more to say.

Oh, she begged and pleaded, upon her knees,
But by none of it was her father appeased.

On that day she ran and came,
For he wasn't the only one who was to blame,
An arrow shot from above, piercing her delicate skin,
Dying slowly and letting love win.

He caught her in his arms, shouting a loud scream,
Every day with her was a beautiful dream.

He couldn't bear to live further if only he could have a fresh start,
But that he didn't think, because a sword a was thrust into his heart.

Their love was sacred, and the story, not ours,
They loved each other to and together still live among the stars.
Writer:- Rhea Subash
Love is in the air

I'm knocking at the door of your heart,
Just soothing to open the door.

Let me assure you it's me.
A sudden echo comes from my heart,
It might be your affirmation.

Let me open the window of our soul,
Echo yelling to paint our future.
Embellish to decor with colorful glitter.
Sapling a rigid and unbroken tree of us.

Let me provide the warmth of love,
To get lost in your inner peace of soul.
Let your jacket cover me up,
And cuddle me too close.

It takes my heart away for a while,
It seems time has stopped!!
Felt relax and tranquilize!!
All emotions are floating over you.

Standing on the door of your heart,
You will sooner accept my letter.
Let me set to your heart,
To be mine forever!!
To be mine forever!!
Writer:- Saloni Gupta
Agar aapke khudke likhe hue "trending status in hindi" aap humare website or dena chaahte hai toh humse connect jarur kare. Whatsapp writing communities se jude rehne, humare instagram handle @ruthaaashiq.co pe DM kare aur "trending shayari in hindi" ke iss collection se apna naam bhi jod de.