Adhura Pyar Shayari In Hindi
Ruthaaashiq famous hai toh adhura pyar shayari in hindi ke liye. Hum khud bhi wahi likhte hai aur hume waise likhaaawate aati hai. Bhale dukhi hai hamaari adhuri mohabbat shayari magar hum sab isse gujarte hai isliye sab relate kar paate hai. Kuch ese hi alfaaz bichde panchi ki daastan lekar aaye hai. Adhura pyar shayari ka yeh collection ruthe aashiq jinhone abhi abhi bewafai ka samna kiya hain unka dil jit legi.
Adhura Pyar Shayari In Hindi
Adhura pyar shayari images ke saath hain jise aap whatsapp status aur instagram stories main share kar sakte hain. Adhuri aashiqi aur dard ka alag hi connection hain dard mahessos hohi jata hain to aap isse adhura pyar shayari share kar sakte ho.
वो बादलों सी ओढनी ओढ के आयी थी,
मैं बरसात की छतरी जैसा मचलने लगा,,
वो धीरे धीरे चल रही थी और
मैं रूक रूक के बरसने लगा..
Wo badalo si odhani odh ke aayi thi,
Mai barsaat ki chatri jaise machalne laga,
Wo dheere dheere chal rahi thi,
Aur mai ruk ruk ke barasne laga…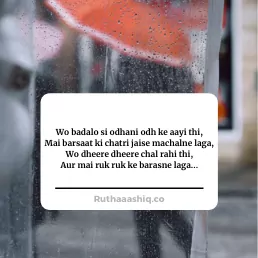 Download Image
बहते बहते कुछ यूं हम घाट के किनारे आ गये,
बहुत दूर तो ना जा सके पर तुम्हारे किनारे आ गये,
शायद हमको मिलना था इसलिऐ उस छोर के किनारे आ गये,
बहती नाव को रोकते रोकते नये शहर के किनारे आ गये…
Behte behte kuch yu hum ghaat ke kinare aa gaye,
Bahut door toh na jaa sake par tumhare kinare aa gaye,
Shayad humko milna tha isliye uss chor ke kinare aa gye,
Behti naav ko rokte rokte naye sheher ke kinaare aa gaye..
Download Image
वो थकता ना था रूकता ना था,
पैरों की मैल बढती जा रही थी,
wo thakta na tha rukta na tha,
pairo ki mail badthi jaa rahi thi,

पर नाखून चुप रहने लगे थे,
फिर भी ना उसे चप्पल मिल रही थी,
par nakhun chup rehne lage the,
fir bhi na usae chappal mil rahi thi,

ना वो ठिकाना मिल रहा था,
इस तरह वक्त गुजरता जा रहा था,
na vo thikaana mil raha tha,
iss tarah waqt gujarta ja rha tha,

और लोग उसे भुलते जा रहे थे,
पर जिंदगी उसे ढुढनें में लगी थी,
और वो उससे भागता जा रहा था…
aur log usae bhulte ja rahe the,
par zindagi use dhoondne me lagi thi,
aur wo usse bhaagta jaa rha tha..
Download Image
वो शनिवार के आने की खुशी,,
सोमवार को देखके ठिठुरने लगती है…
wo shanivaar ke aane ki khushi,
somvaar ko dekhke thithurne lagti hai…
---
---
Jab koi kuch nahi bolta tab Adhura pyar quotes ka hi sahara hota hai. Kam se kam hum akele me khudse toh bole. Tanhaai aur apni adhuri mohabbat shayari me dil ki sachai kahi toh khole…Adhura pyar shayari in hindi ek haqiqat ka ahesas hain jo aap dekh sakte ho pr samaj nahi sakte..!
Must Read:- Breakup hindi shayari
बात उलझ के रह गयी
थोङा पास पहुंच के रह गयी,,
baat ulajh ke reh gayi,
thoda paas pahuch ke reh gayi,

सुनने लोग आये थे बहुत
पर थोङा शरमाती सी रह गयी,,
sunne log aaye the bahut,
par thoda sharmaati si reh gayi,

चाहती बहोत कुछ थी कहना
पर लोगों के डर से चुप चाप सी रह गयी,
chaahti bahut kuch thi kehna
par logo ke dar se chup chaap si reh gayi…

अक्सर सुलझना चाहती थी खुदको,
पर लोगों के सवाल देखती सी रह गयी,
aksar sulajhna chaahti thi khudko,
par logo ke sawaal dekhti si reh gayi..

कहती थी मैं खुद को बताऊंगी,
पर लोगों को पढती सी रह गयी,
kehti thi main khud ko bataungi,
par logo ko padhti si reh gayi…

कई मर्तबा बीच में आई थी दोनों के,
पर दोनों को मनाती सी रह गयी,
kai martaba beech me aayi thi dono ke,
par dono ko manaati si reh gayi..

बातों बातों में गुफ्तगु करती थी,
पर लोगों के इनकार सी रह गयी,
baato baato me guftgu karti thi,
par logo ke inkaar si reh gayi…

सिलसिला यूं ही चलता सा रहा
पर वो किसी ख्वाब सी रह गयी,
silsila yun hi chalta sa raha,
par wo kisi khwaab si reh gayi..
Download Image
जाउंगी कहाँ मैं….कुछ पता नहीं है
क्या लौट आऊंगी मैं भी…कुछ पता नहीं है
उङ जाऊंगी मैं भी …
पर साँझ का कुछ पता नहीं है….
jaungi kahaan mai… kuch pataa nahin hai,
kya laut aaungi mai bhi…kuch pataa nahin hai,
udd jaungi mai bhi…
par saanj ka kuch pataa nahin hai..
Download Image
सब पूछते है पता मेरा..
पर घर का पता नहीं…
रास्ते खत्म होते गये…
पर मंजिल का पता नहीं…
sab poochte hai pata mera..
par ghar ka pata nahin…
raaste khatam hote gaye..
par manjil ka pata nahin..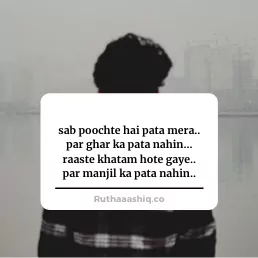 Download Image
चार किताबें हैं..
अब उनको ख़त्म करना ही है,..
पढ़ने के लिए कब से बेचैन हूँ..
chaar kitaab hain..
ab unko khatam karna hi hai…
padhne ke liye kab se bechain hoon…

फिर से घङी पहनने लगा हूं,
मेरा समय कहीं खो सा गया था…
fir se ghadi pehenne laga hoo,
mera samay kahin kho sa gaya tha..

आजकल चमचे बहुत तरक्की पे हैं,
और मुझे चम्मच से खाने नहीं आता…
Aajkal chamche bahut tarakki pe hain,
aur mujhe chamach se khaane nahin aata..
Download Image
Dil, dard aur shayari ke iss silsile me aap bhi, adhura pyar shayari in hindi humaare write for us section me send kijiye. Sachi mohabbat jo kahe wo log jhoothe, baaki jhoothi aur adhuri mohabbat shayari hi sach hai. Aur wo shayari jo sab se keh de wo dard bhari kahaan, isliye hume likhe ….Dil se dil ka behaal me, haalchaal sambhal jaaya karega.
Writer:- Arjun Pandey
Instagram:- dopanchi
Must Read:- Childhood Memories Quotes