Interesting Poem On Teenage Life
Kavi bahut hote hai, lekin kavi na bhi ho toh "poem on teenage life" har kisi ke diary me mil jayegi. Ehsaaso ko shabd lagte hai. Har ek insaan ka mukhya aur golden phase hota hai uska teenage time. Experiment ki age hoti hai, naye invention ke khayaal aur bahut se josh bhare, pyaar bhare sapne!!!! Teenage love poems, teenage friendship, yaaro dosti, mera pehle pyaar, aur bade banne ki zidd!!! In my dreams, for my dreams, moving with zeal and burst of emotions!!!
Poem On Teenage Life
Teenagers ki life kabhi aasan nahi hoti, voh sab dekhte hin apni iss ummar ke saath dhoka, pyar, dard aur pyar. Aur kabhi kabhi future ka bhi sochte hain jo voh ban na chahte hain pr kahi na kahi voh khud ke sapne ko dabaa dete hain Society kya soche ki yeh soch ke..! pr fir bhi voh kuchh niche di hui Poem On Teenage Life ke kuchh hisse jite hain.
HAPPINESS OF TEENS
The theme now is getting all joyful,
Somewhere it is darkness everywhere,
And in some portions life is blushing…

Never regretted for the enthusiastics,
To happen and pull them from shadow,
Had now achieved a manner of habituation…

Now enjoying every phases of life here,
But are the so called elders gonna listen?
Are they stop behaving crazily to us please?

The mentality which they got for most of us,
Is going to be the dooms thinking one day,
When we all will be shining high in sky…

And they will be regretting the whole day,
Try not to be that portion of the conscience,
For propagandas are always ready to blame…

Never ever they let us live happily anyway,
But everytime we find a way and enjoy life….
TEENS ENJOYING THEIR DREAM
Are we only been fed up by suppression,
Never getting time to sit and think in peace,
That the ambitions that we have planned…

The goals of ups and downs that we set,
Can be achievable but are far away now,
To just realise that we have other works…

Especially the works to prove ourselves,
That even we teens are also natured enough,
Do we think properly how blur is our dream….

That is now showing struggles only in path,
Should we stop dreaming wisely and highly,
Or we have to stop and give up sleeping…

Just sit and think for sometime about us,
Is the situation we are facing can be heard,
We are also the children of god for sure…

But we are also humans, not machines,
Today a teen is crying for help in the dream,
For that dream in front of world is nothing….
TEENS CRYING FOR LOVE
Maybe today teens are also very sad,
Don't know what plot may be put there,
I also think that they are just nervous….

As a teen I can feel everything and appeal,
We must have a high degree boredom,
Just want to reveal this knowledge now…

Want to get rid of every possible stuff,
Do you all know that always we are tested,
And still said and declared immatured, why?

Today a pain is glowing the tears apart,
Want to know the faults made for these,
For which we are mentally suppressed…

Loved the Zion once and tried for the luck,
But again denied by the fact of being teens,
Please stop harassing us from development…

If we are given the freedom to fly high,
We promise you we will cover the entire sky…
If you also want to bring it on words……Ehsaaso ka blast hai agar usi TEENAGE ki ….TEEN wala AGE ki poems humare "Submit Post" section se connect karein. Writer poem me wahi likhta hai jo dil aur dimaag ki gehraai me ho…main ho…Understand ye karna hai, kis maksad se kya kaha aur zindgi samaj jaaye…Yaad aata hai wo khyaal mujhe bhi, fir sikhna chaahta hooo " poem on teenage life" ka josh…Ek ek kavita me rang bas wahi hai, yuva ke najarie ki baate wahi hai….
GREATNESS OF TEENS SHARING
We always ignore and realise later,
That even teens would have did it…
Always in the priority list they end,
But after completion we also realize…
That they should be the starter of all,
Yes, we do discriminate in everything…
We always care society sacrificing them,
Why to be such unhuman in realistic…
Why to have badly affected eruptions,
Even we all know they can do anything…
We must not stop them from the miracle
Expectations do kill some dreams..
But believe me teens can accomplish destiny,
Not only of themselves, they also care…
Anticipating the world alongwith them,
They achieve the miracles and do share..
Promise should be to respect them,
So that the whole world will earn the fame…
POWER OF A TEEN
Everytime forced to be in the limits now,
But never be known of the fact that,
Our limit is even above the sky itself…

Whenever the power of a teen is tested,
The competition becomes scripted nicely,
In the golden history of the present age..

For our brain getting the signal to explore,
If it will not be interrupted, you will be proud,
The most centric appeal is to the readers…

Take away something from here anyway,
Just believe that the teen besides can do,
And after sometime you will see a scripture…

An embedded history broken moment infront,
Need of the hour is to give them the feathers..

And they will even fly high in the horizon,
Just extend the radar of their wisdom and,
You will see how deep they can dive and win…
YES, TEENS WILL WARN
Nowadays, we are facing a lot of issues,
The world cut shorting the teens now,
So can anyone proudly say the wisdoms..

That even someone is there to miss teenage,
Definitely not right, I am damn sure, No one
Actually problem lies in the understanding..

Of the world and its perspective everyway,
Just because sometime we demand justice,
We became a matter of irritation to throw…

Totally forgetting the fact of achievements,
Just because to satisfy your self respect,
We always do sacrifice, may be unknowingly…

But today my pen will resolute to all of you,
My revolt will be even sharper than a sword,
Just because my emotions are today flowing…

For being teens we will never be growing?
Our development seems to be a jealousness
How dare to stop us from getting…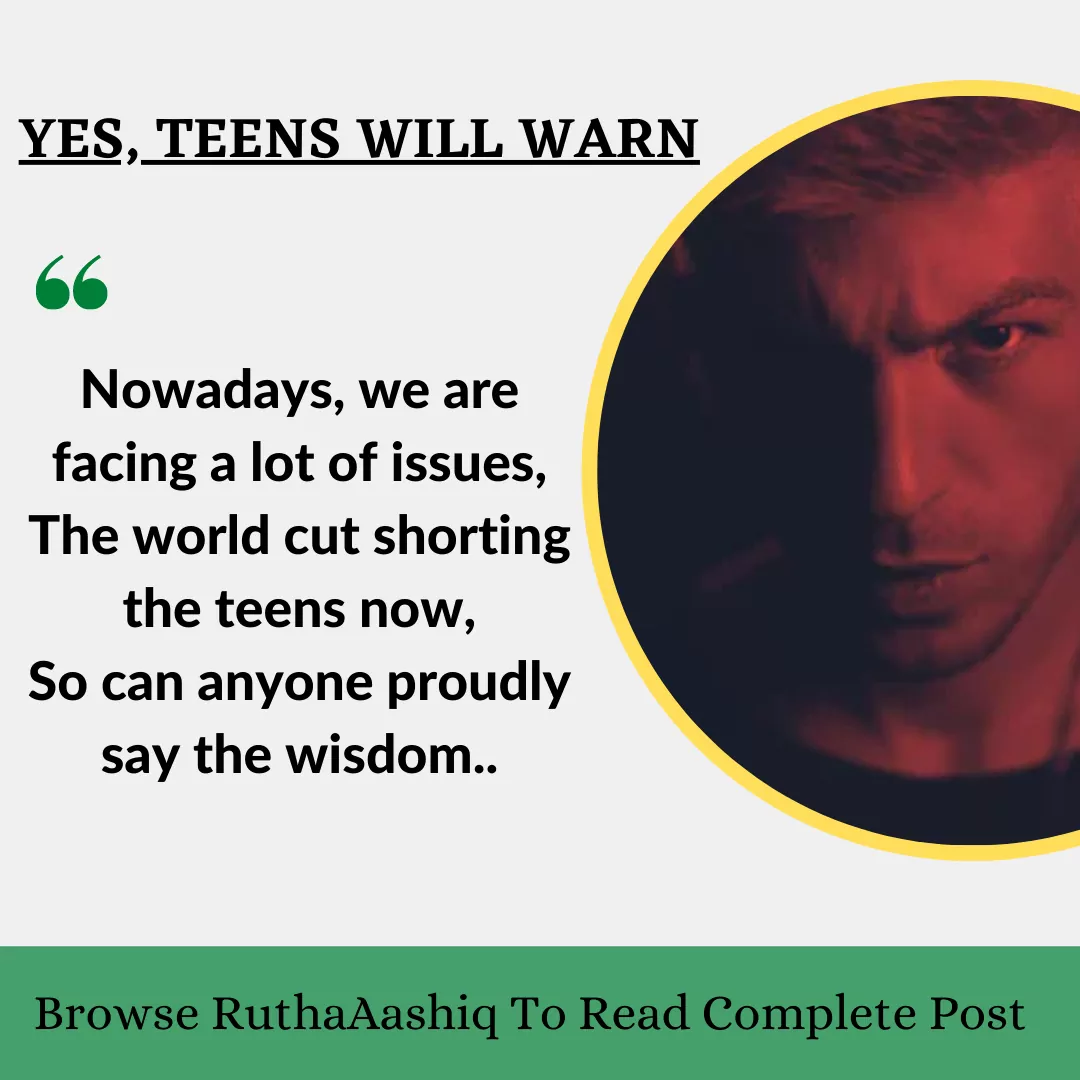 Poem on Teenage Life ki diaries aap bhi open karna aur wo samay ki baate sochna ….Agar aapko lage wo baate anmol thi toh hume email jarur karna. Har jazbaat ki awaaz mehsoos karna hi ruthaaashiq ka kaam hai!!! teenage love poem collection share karna aur teenage time ke sache saathiyo se judkar fir ehsaas jagaaye rakhna …
Writer:- Archishman Satpathy
IG-jokerpoet_2882