Desi content blog me 15 August k liye "Happy independence day quotes in hindi" na ho aisa kaise ho? Aazaadi ka din hai aur hum humaare poorvajo ka kheencha hua ek sirha hai. Dil aur dimag se hum roj toh bhul jaate hai, lekin kuch utsav aur avsar hume desh ke liye maan, sanmaan karva dete hai.
Politics aur dusri cheezo me desh ke prati bhavna kam si lagti hai iss trending world me. "Happy independence day shayari" ki ye shabd shayad hume firse wo watan ka ehsaas dilaaye, jahaan hum jaan dene se pehle sochenge lekin koi ek kaarya apni jawaabdaari samajhkar apne desh k liye purusharth karenge.
---
Happy Independence Day Quotes In Hindi
एक मरा तो सौ और आएंगे,
सुनलो भारत के दुश्मनों, हम वो है जो तुम्हे हर और नजर आएंगे..
Ek mara to sau aur aaenge,
Sunlo bharat ke dushmano, Ham voh hain jo tumhe har aur nazar aayenge..
मौत अच्छी है दुश्मन के आगे झुकने से,
जिंदगी बेकार है किसी गुलामी से..!
Maut achhi hain dushman ke aage zukne se,
Zindagi bekar hain kisi gulami se..!
जय जवान, जय किसान ये हमारा नारा है,
हम भारतवासी और ये देश हमारा है…
Jay jawan, jay kisan ye hamara nara hain,
Ham bharatwasi aur ye desh hamara hain..
हम भारतवासी प्यार कि मिसाल है,
दोस्तो के लिए गुलाब तो दुश्मनों के लिए हम तलवार है..
Ham bharatwasi pyaar ki misaal hain,
Dosto ke liye gulab to dushmano ke liye ham talwar hain..
भारत की सी मिसाल कहा मिलेगी देश एक बोली अनेक,
सब का महत्त्व अपना ,सब रहे मिलकर ये मेरे देश का सपना…
Bharat ki si misaal kaha milegi desh ek boli anek,
Sab ka mahtva apana, sab rahe milkar ye mere desh ka sapna..
देश की मिट्टी मेरे लिए सोना ,
देश का ध्वज मेरी आन बान शान,
मै एक भारतवासी हूं, ये मेरी पहली पहचान…
Desh ki mitti mere liye sona,
Desh ka dhwaj meri aan baan shaan,
Main ek bharatwasi hun,
Yeh meri pahali pahchan…
देश का सैनिक मरकर जीते हैं ,
पहले देश पर मर मिट जाते हैं फिर देश का दिल बनकर जीते..
Desh ka sainik markar jite hain,
Pahle desh pr mar mit jaate hain fir desh ka dil bankar jite…
---
Must Read:- Rashtriya Ekta Diwas
---
Happy Independence Day Status In Hindi
Hindi Bhaasha lupt hoti gayi hai thode thode jagah me, lekin "Happy independence day status in hindi" yaad dilaate rehte hai, ke hum hindi bhaashi desh hai. Saath hi aazaadi ke kisso me "Happy independence day quotes in hindi" ke saath saath humaari aazaadi ke liye shrey kinhe jaata hai wo hum yaad rakhe.
तिरंगा हमारा लहराये आसमान में ऊचां,
मिट्टी देश की हमारा स्वाभिमान,
गर्व से कहो मेरा भारत महान..
Tiranga hamara laharaye aasaman mai uchaa,
Mitti desh ki janata swabhiman,
Garv se kaho mera bharat mahan ..
वतन के वासते जान भी दे देंगे,
जरुरत तो पड़े कभी हमारी देश को,
वादा है हसते हसते जान भी दे देंगे..
Vatan ke vaste jaan bhi denge,
Jaroorat to pade kabhi hamari desh ko,
Vaada hain haste hasate jaan bhi de denge .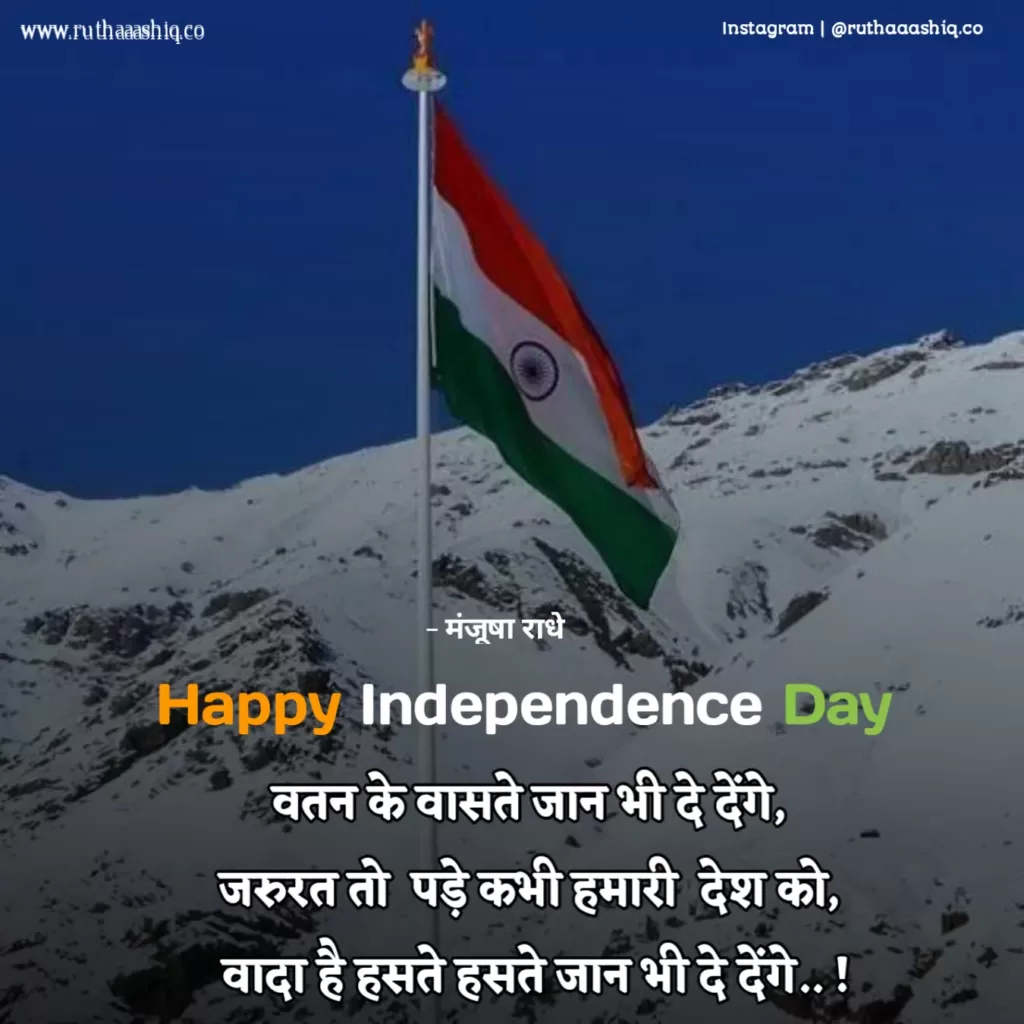 ना बताने से आता है, ना जताने से आता है,
देश प्रेम दिल में खुद ब खुद उमड़ आता है..
Na batane se aata hain, naa jata ne se aata hain,
Desh prem dil me khud b khud umad aata hain..
हर शहर, हर गली, हर गांव एक ही आवाज़ होनी चाहिए, हर और बस मेंरा भारत महान की गूंज होनी चाहिए..
Har shahar, har gali, har gaav ek hi aavaj honi chahiye,
Har aur bs mera bharat mahan ki gunj honi chahiye..
जहाँ जय जवान जय किसान का नारा है,
मिलकर गर्व से कहो सारे भारत देश हमारा है..
Jahan jay jawan jay kisan ka nara hain,
Milkar garv se kaho sare bharat desh hamara hain..
यहाँ जात पात नहीं बस भाई चारे की लहर होनी चाहिए,
देश की शान में ही हमारी शान होनी चाहिए..
Yahan jaat paat nahi bs bhai chare ki lahar honi chahiye,
Desh ki shaan main hi hamari Shana honi chahiye..
जहा मिट्टी को भी हम माँ कहते है,
हमे गर्व है हम भारत मे रहते है..
Jahan mitti ko bhi ham maa kahte hain,
Hame garv hain ham bharat me rahate hain..
---
Download More Images For 15 August Wp Status
---
Happy Independence Day Shayari
Aap sab "Happy Independence Day Shayari" is swatantra divas par sabko share kare aur desh ke prati prem vyakt kare. Haa shayad bahut practical aur oopar hi oopar jeene lage hai hum, lekin yehi toh din hai jab aap "Happy independence day status in hindi" ke bahaane humaare andar ke wajood ko feel karne ki. Post ke shayari khatam ho lekin aap hume shayari bhejte rahe aur apni kalam ko b aazaad se likhne de.
दोस्तों पर जान देते हैं, दुश्मन को मार देतें है,
हम भारत के सैनिक है देश पर खुद को भी वार देते हैं..
Dosto par jaan dete hain, dushman ko maar dete hain,
Ham bharat ke sainik hain desh pr khud ko bhi vaar dete hain..
ना सोना चाहिए, ना हीरो की भूख हमे,
देश के लिए खुद को भी मिटा सके,
काश मिले ऐसी तकदीर हमे..!
Naa sona chahiyen, na hiro ki bhukh hame,
Desh ke liye khud ko bhi mita sake,
Kaash mile esi taqdir hame..!
देश प्रेम का नारा हो, अखंड एकजुट देश हमारा हो..
Desh prem ka nara ho, akhand ekjut desh hamara ho..
कफन मेरा तिरंगा हो, जनाजा उठे मेरा शान से,
काश मेरी अंतिम विदाई हो राष्ट्र गान से..
Kafan mera tiranga ho, janaja uthe mera shaan se,
Kaash meri antim vidai ho rashtra gaan se..
भगवान भी जहाँ जन्म लेते बार बार है,
ऐसी महान भूमि भारत की,
जिससे इंसान तो इंसान परमात्मा को भी लगता प्यार है..!
Bhagwan bhi jahan janm lete bar bar hain,
Esi mahan bhumi bharat ki,
Jisase insaan to insaan parmatma ko bhi lagta pyaar hain ..
कर जाओ कुछ ऐसा कि देश का नाम हो,
लहराये फिर तिरंगा शान से,
देख दुनिया भी वंदेमातरम कहना उठे सम्मान से..!
Kar jaao kuchh aisa ki desh ka naam ho,
Laharaye shaan se, dekh duniya bhi vande mataram kahana uthe samman se….
"Happy Independence Day quotes in hindi" read karna aur usme base hue jazbaat me khudko bheegaana. Hum khud apne ghar aur desh ke ansh hai. Aur kitna bhavya hai ye bharat desh, is cheez ka gaurav "Happy Independence Day Status in hindi" har social Media me post kare.
Writer:- मंजूषा राधे (@skhatu788)