Har kisi ko koi na koi dar hota hai, "fear no more poem in english" ki baate ruthaaashiq ki counseling ki charcha me baat hui thi. Ruthaaashiq ne khud 2 poems likhi hai jisme "poem on overcoming fear" hai aur ek "a poem on fear" hai. Ruthaaashiq logo ke man me "famous poems about overcoming fear" ko jaanna chaahta tha…Toh logo ko apni writing community me invite kiya aur logo ke dil ki baate collect ki hai.
Nightmare – Fear No More Poem In English
Woke up this morning, she had a heavy heart. Unwilling to proceed, felt dead.

She dragged to face the routine, walking to adjust the regular chores.

A health breakdown and she called her friend. She was taken to a medication cabin.

She spoke of killing dreams and night jerks of fear.

A mindful of conversation shared a mirror of thoughts.

Bound in an emotional bond, a matter with mind for unveiled as soon as she was taught mind is what is the matter after all.

No change in situation no change in life… A mind, a thought and she was freed….

She thought it was end, but the breakdown gave a beginning at a counseling desk.

Healed and happy and forever..

With not magic but magical desk.
Writer:- Priyanka Pandya (IG- @ruthaaashiqoriginals)
The word – Fear No More Poem In English
The word settled meant dead,
The word mad meant alive,
The word alone meant true emotion,
The word together meant illusion,
The word bunk meant experimental,
The word obedient meant blind faith,
The word focus meant follower,
The word rejected actually meant new effort,
The word hiding meant unaccepted,
The word broken meant towards self,
The word saving meant undeployed money,
The word not allowed meant excuse,
The word self-made meant self-obsessed,
The word will try my best meant suppressed heart effort,
The word commitment meant repeating the same,
The word save your skin meant to be inhuman,
The word emotional fool meant being human….
The word untold fear meant unused ferocious energy….
Writer:- Priyanka Pandya (IG @ruthaaashiqoriginals)
Standing at the crossroads of Life
Fear grips me in a vise-like grip!!
To listen to my heart or my head,
That is what I cannot decide!!!
Is it necessary for everyone to win?
Why does one have become an
Engineer, Doctor, Architect, or C.A.?
Why can a student dream of becoming
An artist, an athlete, painter, or dancer?
Its time to break apart the shackles
Of what society will say
And overcome the fear of treading
Unknown exciting paths in Life!
Its time to open up our hearts and minds
Get rid of our fears
And achieve all that we have dreamt of!!!!
Writer:- Mrs Rima Dey (IG- @rimadey_musings)
I fear you might laugh at everything you'd hear about me
I fear what might your opinion of me at this very hour be
I fear spending nights wondering why I am not just like thee
I fear facing a world that always seems so perfect to the T

I try harder to fit in and lose myself so you'd approve
I shy away from my very nature just to be in the groove
I cry out aloud within that I be the one that you'd love
I vye for every battle around you if only you'd observe

I focus on what I lack, wonder the reasons for the befallen curse
I get slandered for no fault, things go wrong from bad to worse
I sit there in solitude till long after I see them all disperse
I am the chosen one, the only one out odd in this entire universe

I wish there was another way I could deal with it all
I could feel special some way some day before I'd fall
I too would be loved and not always made to feel small
I would've friends who'd be there for me anytime I'd call

I know not if this can erase memories from this life, all such bitter
I set out to end this ordeal, called 'me', much hoping for the better
I ended up with nothing or no one now to whom I could ever even matter
I lost my self for what, if all was to burn like this and just scatter

I seem to have not just lost myself but also the whole darn plot
I set my eyes on things never meant to be ran after and sought
I am unique in my own way and I didn't have to chase that nought
i saw it all just in time after all, although only as an afterthought

I feel so lighter now, now that I no longer see me through your judging eyes
I fear not about your opinion of me anymore, how with time, I too became wise
I meet people like me and tell them never again to fall for your blatant lies
I hear and heal those going down, fading away into the quiet forever, otherwise!
Writer:- Ravi Chandra Puvvada (IG- @puvvadaravi)
Aapko kya lagta hai? Writers ke fear ke feelings ke baare aapko kuch add karna ho toh aab bhi humare post join kare. "Fear no more poem in English " ki iss poetry collection me rutha aashiq ka intention logo ke man k fear jaan na bhi hai aur "poem on overcoming fear" ki taakat ko badhaana bhi hain.
Must Read:- Journey Of Life Poem In English
A Poem On Fear | Fear No More Poem In English
LIFE is but an Illusion
Yet YOU be Your own HERO
You're Here FOR a Reason
Put Up Your OWN Show

IF Failure isn't Comforting
SUCCESS isn't Everlasting
Take Those STEPS Nevertheless
It's All Surely WORTH Trying

What Went WELL, You Opine
Could be More ABLY Done
WHAT Brought You Badly Down
Could Be Taken HEAD ON

Hope's Just One Step ABOVE
STEP UP and Simply Follow
It's ALL About Feeding the MIND Now
The Path of FEAR is a BIG NO-NO

It's Easier Said Than Done
You May Say To Yourself SO
But You Can START All Over Again
Doesn't It All Begin at a ZERO

No End is EVER a Dead End
Unless YOU've Decided So
Move Ahead, Take that BEND!
CHANCES, You Should Never Forgo

Help's Sure to COME Your Way
ONLY If You HANG IN There
Wait Your Turn and Just PRAY
Be STRONG, Come What May, DARE!
Writer:- Ravi Chandra Puvvada (IG- @puvvadaravi)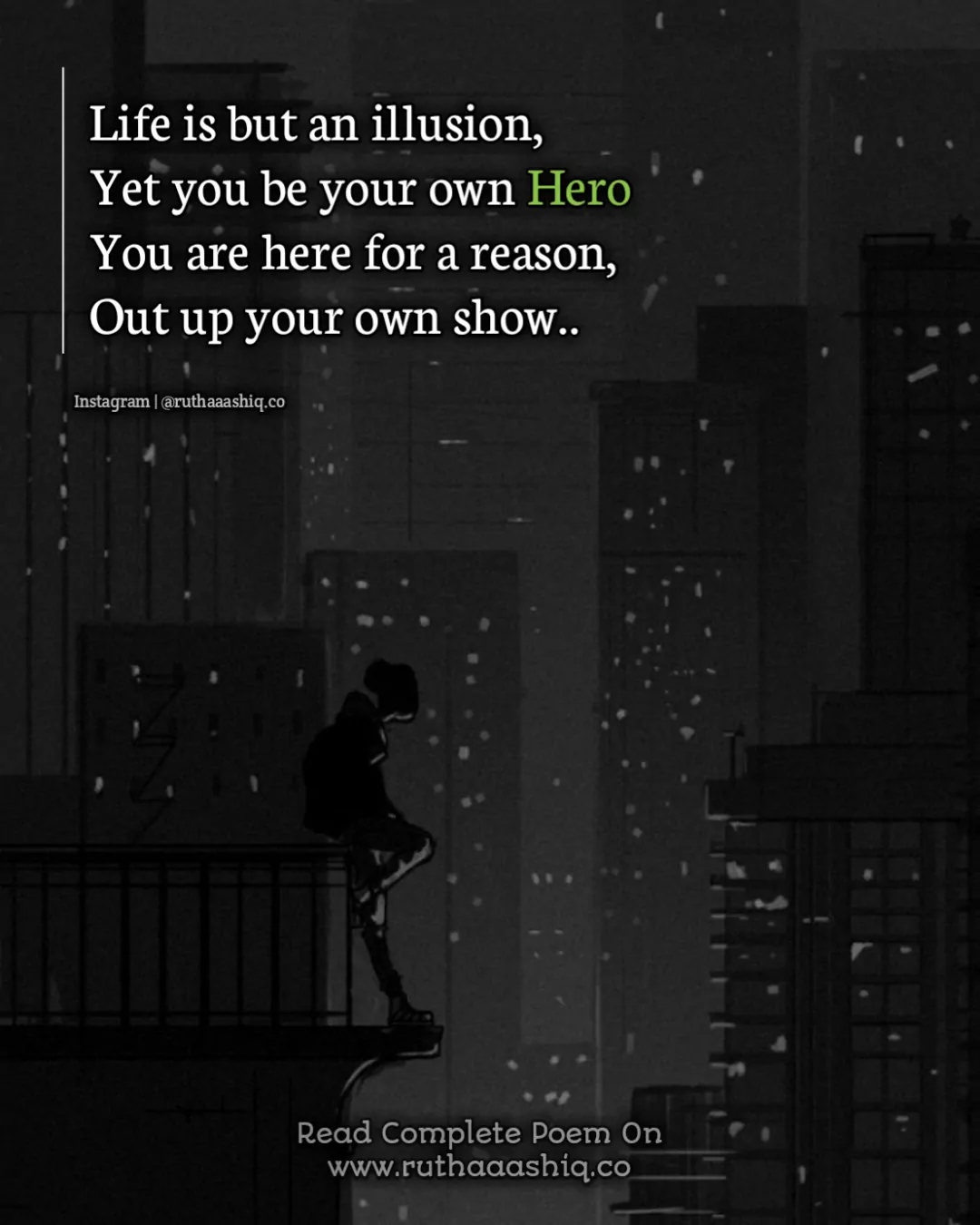 Hello Fear – Fear No More Poem In English
Hello, I call out from within,
Fear, tell me did I do any sin.
Then why do you come again,
Why do you take me to the path of pain!

I feel all the screams that rain,
With every thought in my mind, I strain.
But mind it, my life won't stop,
I will surpass all and reach the top.

You are just a drop of the sea,
While I am the entire flowing sea.
The day is not far when I would laugh,
Full of energy I'll make you half.

The path I follow is hard,
To mess with me is a hazard.
But I truly believe in peace,
As the day comes to cease…
Writer:- Akshay H Jain (IG-@fitness_with_akshay)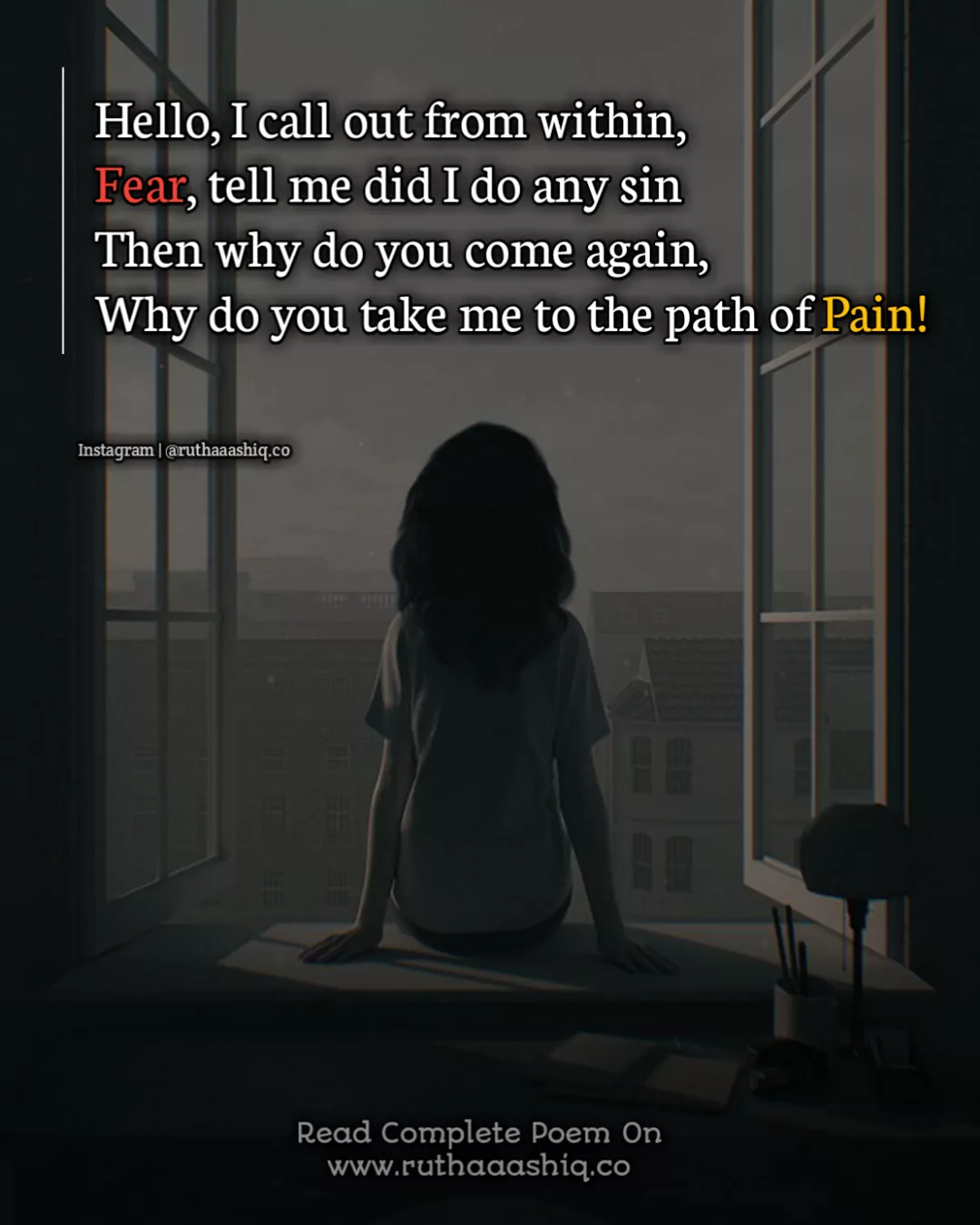 Spirit – Fear No More Poem In English
Smoking Fog in a dark forest ;
erected an old castle
creepy leaves through its pillars.

In lived thirty years back,
a girl with Rapunzel tresses
visitors usually fears her presence.
Never they dare to live there till dark.

Unknown its descendants
waits for her since long
for a friend to join with
died from loneliness.
a child so dear but….
Never others could be so.
din see the light outside her chamber.

She is out here for it
play with light n colors
Child she is of unknown age
see her only at daylight
for she hated the dark light around her.

Loved the sun more than the moon
She opens her eyes at day
close it when it sleeps.
Becoz she is in friendship with it
It shows her lot in depth
of life, she needed while she was alive.
Writer:- Anagha Naresh (IG-@book.slugs)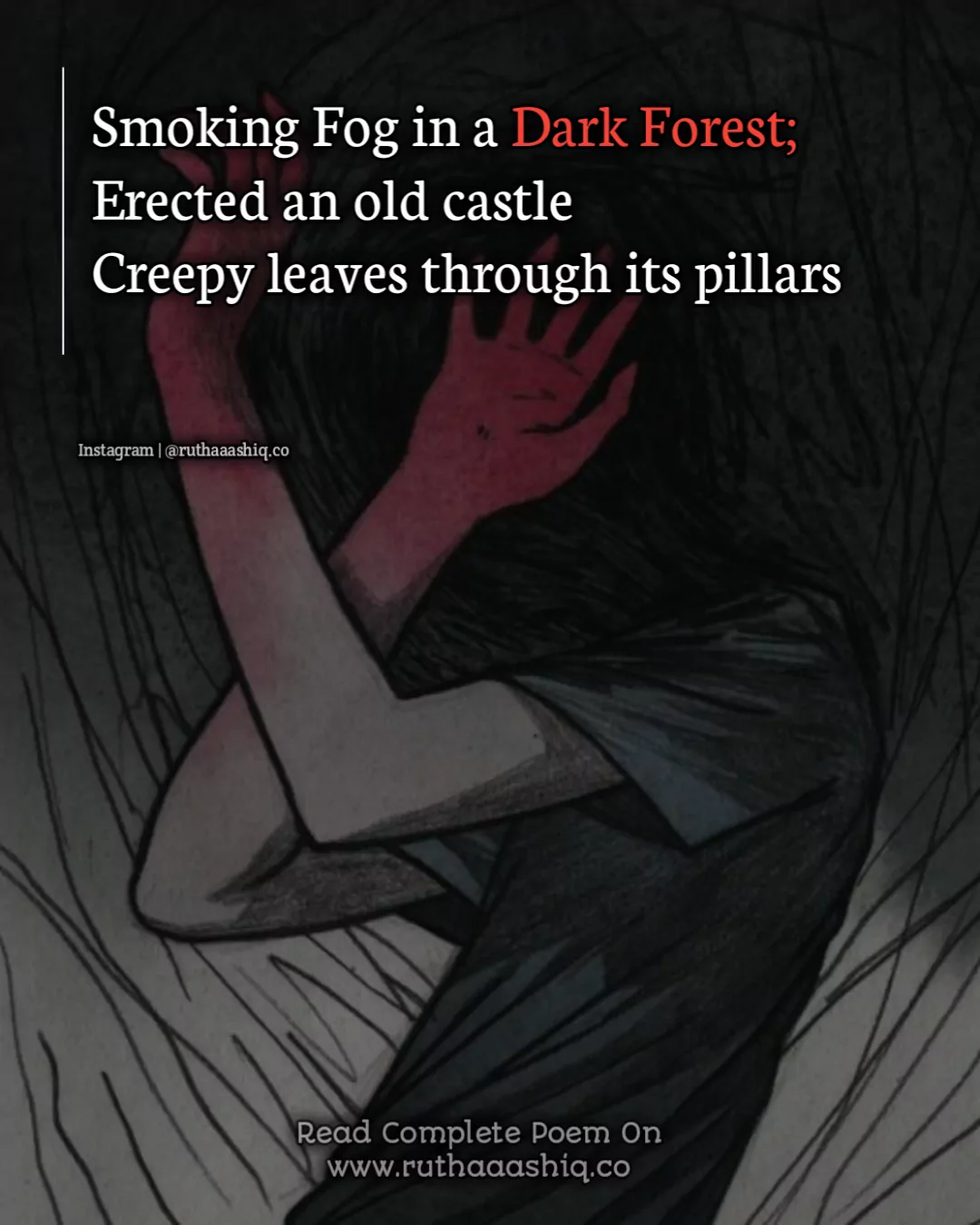 Ruthaaashiq khud bhi dar se guzra hai aur usse aage utha bhi hai. "Famous poems about overcoming fear" hune comment karke bhi jarur bataaye toh ruthaaashiq is topic pe maximum understanding kar sake. Ruthaaashiq maanta hai kuch dimagi andhere counselling se theek ho sakte hai…Aur wo khud professional bhi hai aur iss baare aur. Aur…aur jaan na chaahta hai. "Fear no more poem in english" ek aur teaser hai. Jahaan hum chaahte hai, har koi apna dil khol k rakh de.
The Kingdom of Heaven – Fear No More Poem In English
State of rest to deep sleep,
Never wake up until at the doorstep.
Opened the door of Heaven
The Garden of Eden.

Immortal me saw
Calm n quiet birds.
Beauty thy name be doves
Guards the door of mercy
Dirty I went alone.

Dressed in dresses of dirt
But took me inside as a guest.
None be Satan nor Lucifer
All the kind and loving
Been the messengers of Him.

Beautiful parrots flying past me
A fairy godmother met
in Cinderella's story
Beautified my workouts
To a beautiful gown
Adorned with jewelry.
A bird in reading came
Resembled the phoenix of Dumbledore
Healed my wound with his tears
A bearded man, whom I met before.
At Hogwarts school
Oculus Reparo chanted he
Repaired my specs
Old but new
A youthful father,
Been locked for years
Lupin is of Hogwarts
Harry's tutor has once been
Joined with them
Draco unison with his family
Stunned I stood
Quest for Voldemort
Fated to hell for his deeds

More to meet here and
Went off to my room
There lie books of my type
Ordered by Him from AMAZON!
Writer:- Anagha Naresh (IG- @book.slugs)
Fear No More | Fear No More Poem In English
A Fear Is Nothing,
But, A Perception,
That Put A Restriction,
On Your Destination,

A Fear Is Nothing,
But, An Illusion,
That Diverts the Vision,
From Your Position,

To Face Your Fears,
Try To Courage,
Try To Overcome,
With Your Fears,

Not Just To Become Fearless,
But, To find A New Diversion,
But, To Find A New Conversion,
And, To find Your New Version.
Writer:- Iqra khan (IG-@blessedby_allah)
"Fear no more poem In English" padhkar aapke aapka man ka ek kona yaad jarur aaya hoga. Sirf popular nahi dhundta ruthaaashiq , "famous poems about overcoming fear" ke bahaane local aur deep heart corners pahuchne ka hai. A poem on fear ke saath sab ki raay aur seekh b lena chaahta hoo. Participate kare iss idea k oopar. Sawaal ho toh sawaal kare. Humari writing community ke through hum aapke liye available hai.