Christmas Poem In English With Images
Looking for a Christmas poem in English with images that you can share with your friends and family members on Christmas 2021. Poem for Christmas in English is written by our WhatsApp group writers. I hope this Christmas poem in English is the best sharable content for you on merry Christmas 2021. Also, this poem is used as a Santa Claus poem in English for students in school life.
Christmas Poem In English – MERRY CHRISTMAS
Everyone is happy,
Everyone is celebrating,
Appreciate the beauty,
And love everyone around.

Don't get hyper,
Enjoy the festival,
Appreciate the beauty,
And love everyone around.

There is no time to worry,
There shouldn't be a hurry,
It's time to relax and calm down
And be thankful and enjoy.

Just never ever feel lonely,
You have friends and a family,
I wish you a card,
Merry Christmas my sweetheart!
Writer:- Agam ( @storyteller_agam)
Santa Claus Poem In English
Dear Santa, do you know where heaven is?
Maybe your reindeer knows the way
I have a special present just like his,
I just want, it to get delivered on this very special Christmas Day.

Christmas is the time for sharing with those who are very close to us, and we should do each other's caring
Please take this present to my dear so that his happiness is just a plus.

It's wrapped in all our memories,
We once shared from the past,
Now, I just want everything at ease
And our love long last.

It is a very special gift,
Please, dear Santa, don't delay
From here to his, please shift
I would love it to be in heaven in time for Christmas Day.
Writer:- Agam ( @storyteller_agam)
---
Must Read:- Happy New Year Wishes, Quotes In Hindi
---
VINTAGE – Poem For Christmas In English
On Christmas Day, when fires were lit,
When the brunch was done
We Sat down on the floor and spread our toys, playing there for long under the sun.

The lovely smell of Christmas tree,
Under where I sat,
And the teacher watched her children,
But they all were painted on wood.

But then the jingle of the bells was heard,
And there was nobody knew as a nerd,
And it was all beautiful day,
And everyone can play.
Writer:- Agam ( @storyteller_agam)
CHRISTMAS IS EVERYDAY
Christmas is forever, not just for a day,
For loving, sharing, giving is not to be put away, Just like the bells and beautiful lights in a box upon a self. The good you do for others is good you do yourself.

Celebration is every day, And we can't let our day be as dry as hay,
we enjoy every moment of our life,
some with their kids And come with their wife.

Christmas is giving your shine to your better half,
And fill each other's life with laughs, Christmas calls for family time, so that you in your life have all the rhyme.
Writer:- Agam ( @storyteller_agam)
This year's roller-coaster ride
Has come to an end
Cherishing what's yours,
being kind is the new trend

Jingle bells jingle bells jingles all the way
Keep that's your, delightful thoughts
or Let it go away…

Hey…
Jingle bells jingle bells jingles all the way
This year has taught
You can be your own Santa some day.
Writer:- Mahima alekar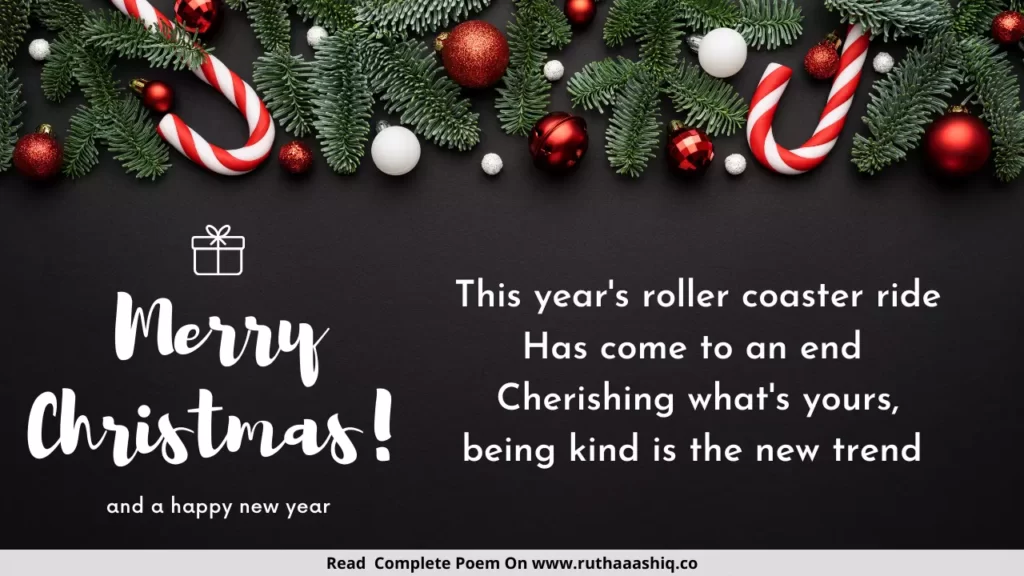 Santa Claus Poem in English
🎅S stands for a stocking we hang so high
🎅🏻A is for all we get if we don't cry
🎅🏻N is for nobody he will pass by
🎅T is for tomorrow, the day we eat pie
🎅🏻A stands for at last old Santa is nigh
Writer:- Ritesh Chhipa
Holidays are near as Snowfall is here
The wait for Santa's gifts is something I can't bear,
Cookies bakers all set with pace.
The Christmas cake is ready to bake
Evening shimmers, billboards shine…
The eve is all set to be accompanied by bottle of red wine❤️
Ringing Bells and singing carols deers singing on Santa's Sledge,
With the gift of faith in the Santa's Cape all of us ready to celebrate
The wait is over and the day is here, let's celebrate this Christmas with love, hope, and cheer ❤️❤️❤️
Writer:- Disha Sadavarti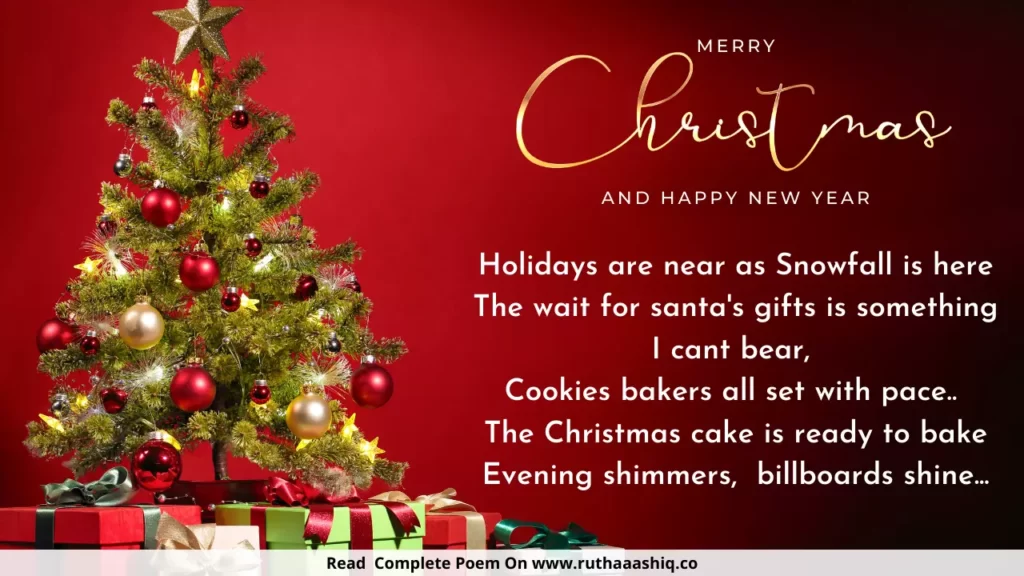 Christmas Greetings Images
Ringing the bells Jingling the bells
All around the world
House and Churches wore
The beauty of the colors
Cribs, Trees, and all
oh what it is to welcome
a joyous prosperous year!
Gifts and treats
Prayers and all
All in the unity of Joy and Glee
With the glory of the god
Trusting the belief of Santa Claus
riding on his sleigh
intruding in through the chimney
Gifts for all the inmates
All the great times of the family
with prayers and yummy food
All together here
celebrate the birth of the Lord.
Writer:- Anagha Naresh
4 more days till Christmas,
I am Thinking to wear something red every day – be it lipstick, or earrings or even an item of clothing…

Everyone is receiving gifts from their Secret Santa, but I haven't got any
Maybe, I don't have any secret Santa
Because I already got to know many

Innocent was the Christmas gifts then,
Gucci, Prada was not latest trends
No dreams, no passion,
Just a handful of chocolates it would be.

Neither harsh music nor loud cacophony,
Jingle bells and snowy trails,
That is what fun sounds to be.
Writer:- Shreya Rajput
Christmas poem in english and Santa claus poem in english collection may you have like it. Also i hope you will share christmas greetings and poem for christmas in english on Merry Christmas 2021 with your homies and family.