Best English Poem Collection
Poetries and literature se bahut life lessons seekhne milte hai. "Best English Poem Collection" read karte hai toh ek alag life vision feelings aane lagti hai. Kuch emotions ke bina life incomplete hai, jaise ki "best love poems of all time". Poetry aur philosophy me logic aur practical aspects nahi hote fir bhi har koi connect kar sakta hai. life ke alag alag aur different aspects "all time best poems" padhte padhte seekhne milenge.
Best English Poem Collection
Participants ke "Best English Poem Collection" Rutha Aashiq ko audience ke alag alag perspective ki seekh dete rehta hai. Genre se alag hote hue bhi emotional artist ki wavelength pe "all time best poems" Digital media ke rang me apna ek alag rang jodta hai. "Best love poems of all time" har kisi ki youth ki pasandgi rahi hai. Love poem ke alava jab poetries ki kitaabo me hum doobte hai toh jazbaato ka safar ek alag crazy art diaries pe le jaata hai.
"The Person Inside Me Is Silent"
For having opinions in different circumstances,
A motive endures that does not disclaim;
A silent person with various perspectives,
Exists inside me, stepping towards the aim;

And adaptive person, learning a lot from surroundings,
Making himself strong enough for becoming a flame;
Anxiously waiting to break the glass ceiling of society,
A passionate dreamer within a proclaiming;

A benevolent person seems to be quiet,
As his being made quiet by society's game;
Afraid of getting hurt by miserable behaviors,
Self-imposing his own limits and finally overcame;

An enthusiastic person fervent for the future,
Restricted by society in an illogical frame;
Simply pretending that nothing matters,
But in reality, he is delicate and maims;

Can't wait for taking any steps in the future,
As a beginning has been made for future's claim;
Societal issues hinder his own rules,
It matters so much as this is not disdained.
Acrostic Poem: MEMORIES
M: Moments apparently etched in mind,
E: Embracing instants of different times,
M: Making unintentionally sink in thoughts lined,
O: Often flooding backward aligned,
R: Revisiting the special glimpses shined,
I: In that frame of time, unforgettable signed,
E: Even it becomes past for one, can't find,
S: Silently surrender one, make the thoughts tined.
New Year
Every year make you learn circumstances,
By giving possibilities and chances;

Welcoming to a new coming year,
With hopes of new resolutions and fears;

Leaving teasing memories and incidents behind,
Bearing good thoughts of virtuous deeds in mind;

Having fresh chances of new year's remind,
Making each day of mine determined and aligned;

A new year greatly renewed and full of hopes,
Affording new changes, challenges, and probes.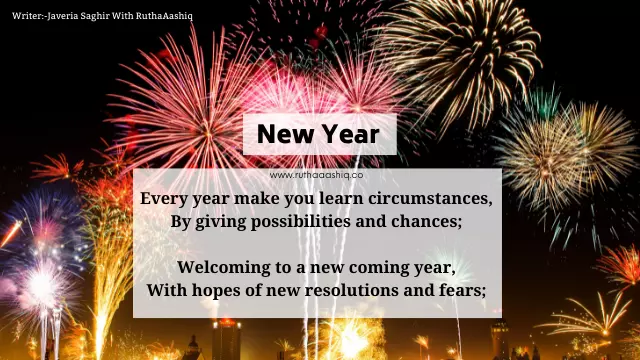 Best Love Poems Of All Time
Aapko ye participant ka "Best English Poem Collection" kaisa laga ye hume comment section me jarur bataaye. Aapke favourite "all time best poems" hume send kare aur hume feedback me aapki choice of poems and write ups bhi likh ke bheje. Writers humse alag alag demand karte hai- to bring new digital opportunity for poets and authors. "Best love poems of all time" ke saath aapke pasand ke alag alag themes hume suggest kare jispar aap read karna chaahte hai.
Must Read:- Best Christmas Poem In English
"Self-Deception"
We are being destructed by the deception of our own,
'Cause, we are compelled to do contrary works in a drop zone.
But then we all have an inner dispute of what?
Why are we surrounded by our own arguments?
'Cause a space, a hidden emotion inside us is unknown,
A proclaim that can't be disclaimed, pretending itself re-known;
Is a self-deception!

Inside self-imposing condolence with abilities,
To change our inner but just for exempting liabilities;
For getting rid of our fears and vulnerabilities,
An inner deception provokes us to overcome all such disabilities;
Making ourselves swiftly strong by giving different availabilities,
A lie which makes a glass ceiling without having possibilities;
Is a self-deception!

To keep your head up in harsh circumstances,
Never lose infinite hopes and given chances;
We may have once lived with inner deception,
Just for avoiding the impossible conceptions
And for making ourselves strong enough for ignoring misconceptions,
Support, an opinion, a strength that exists;
Is a self-deception!

Either self-deception is a cause of destruction,
Or a way to light up the darkened might?
Nevertheless, all depends on own behavioral compensations,
Which either makes us be a reason of inner peace,
Or gets us involved in a series of inner damnation,
A way to bend our thoughts towards approximation;
Is a self-deception!
Love – Best Love Poems Of All Time
Love is an emotion,
Makes not oblivious though having different places.

Love is loyalty,
Keeps you sitting in an open cage.

Love is a connection,
Unintentionally, etches into one's body to spark his soul.

Love is a trophy,
To get after submitting to its demand.

Love is an affiliation,
Enchants one achingly and piercingly.

Love is a demand,
Forces one to give up a part of own self.

Love is immortal,
With no fear of death in mind.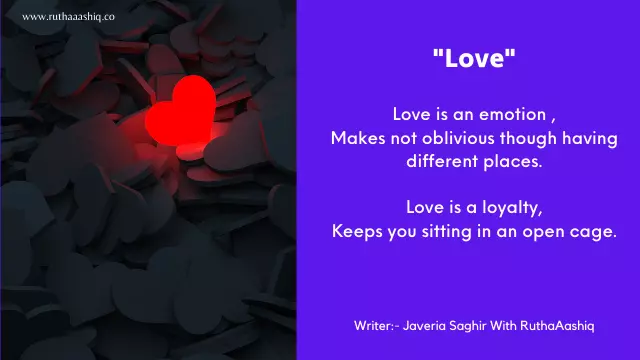 All Time Best Poems
All time best poem collection ek writer ke mahsoos kiye hue kaafi saare pal ko ek juth laane ki koshish hain. All time best poem collection se aap kisi na kisi topic pr relate zaroor kar sakoge aur All time best poem ke saath diye gaye imaegs aap share zaroor karoge esi aasha hain.
Will Power
When physical power becomes weak,
A hidden spiritual power succeeds;

When it is brought to light,
A supportive power restores might;

Surely, it raises a spine of steel,
Making it swiftly strong feel ;

If a will compels to a success,
Making it certainly start a YES;

Welcome to an indomitable will,
Essential to complete and to fill.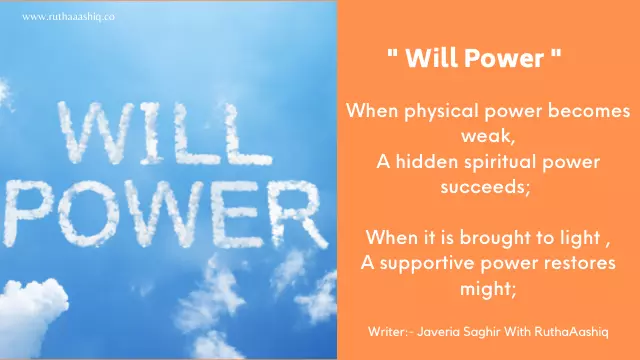 Struggle – Part Of Life
Having a destination is a tradition,
From generations to generations;

Struggling is to fight for one's right,
Bringing light to darkened might;

For achieving high dreams with potential schemes,
For having a passionate passion for dreams;

The struggle remains the part of it all!
The struggle remains the part of it all!
My Mother
A worthy queen,
Having castles inside her bones,
Smashing society's stones, she owns,

A worthy queen,
Who sacrificed herself on the whole,
Her happiness, career, still fulfilling her role,

A worthy queen,
Who is everything at once,
And leads as a tender in front,

A worthy queen,
Who always makes sure the best,
Even when she is in her worst,

Oh, my Mom!
You are my priority, you are my spine,
You are my stimulus which makes me shine.
Depress The Depression
Depression, depression takes us all,
Don't know why? What's its fall?
Neither signifies fragility nor insanity,
But it escalates all humanity,

As the love for creation is insured by Allah Almighty,
Having credence, one can shine brightly,
Remember! He has never been cruel to His creation,
Keep the faith, peace will shine in every situation,

A centripetal force of vices and evils,
Results a miserable voice, woes one's upheavals,
Depress the depression by a belief in Him,
Which will be required to maintain a glim,

A dead soul not glows,
When an intense hopeless emotion flows,
Depress the depression by having a pray,
Will make you a swiftly strong ray,

An emphasis on unusual sorrows,
That desperately Despairs one's hollows,
Depress the depression by covering the contemporary,
Will owe you remember, pain is temporary.
Aapne bhi apni life me "best english poem collection" likha ho toh hume website me publish karne send kar sakte hai. Har kisike words se alag lesson seekhne milta hai. Participant ki "all time best poems" me unke life ke thoughts and perspective padhne milte hai. Local voice aur write up me kami jarur mil jaati hai, but wo yaad dilaati rehti hai ke hum sab bhi alag alag ideas, views and mistakes se bane hue hai. Jaruri ye hai ke participant post se ye samjhe ke ye ek view for life and emotions ho sakta hai. Rutha Aashiq bhi aap me se hi ek writer hai aur aap hi ki kahaani likhta hai aur sunta hai.
Javeria Saghir Poems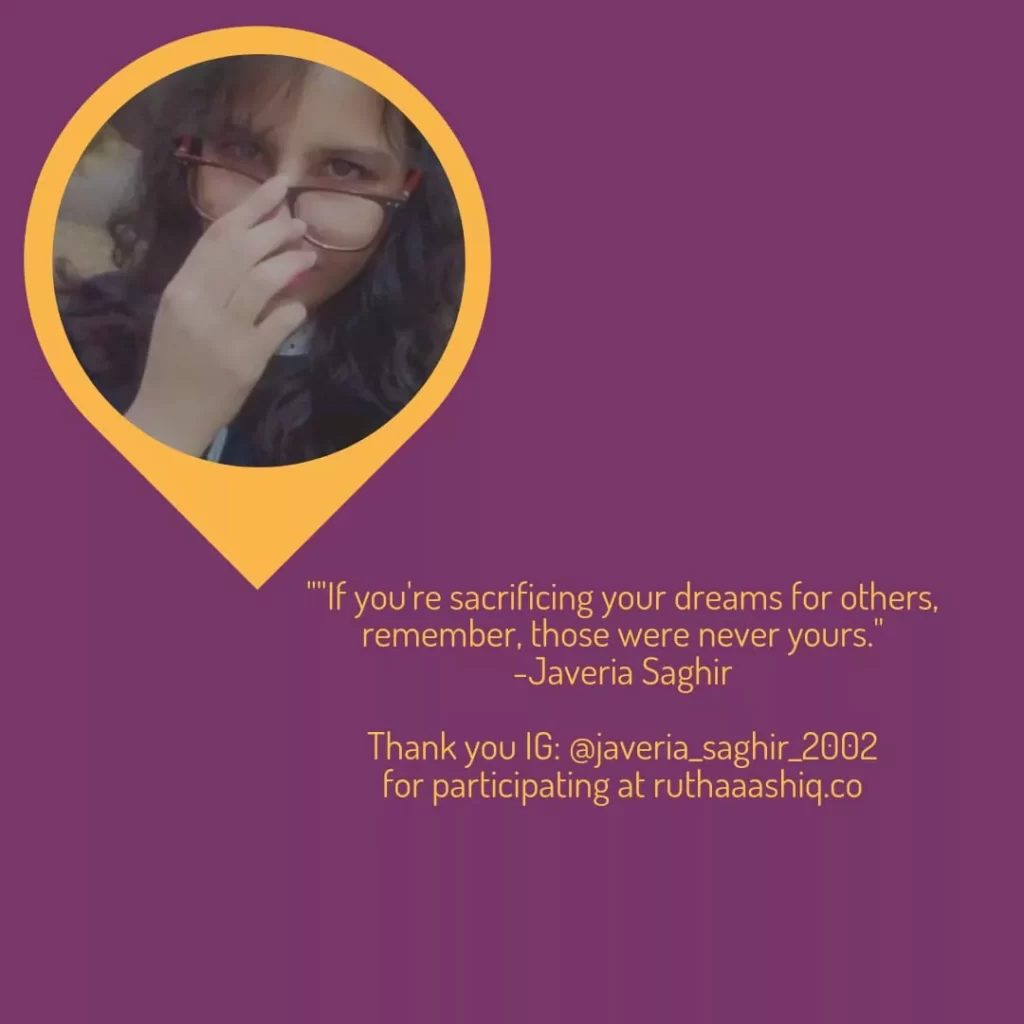 Writer:- Javeria Saghir