Open Letter To Keep Self Motivated In English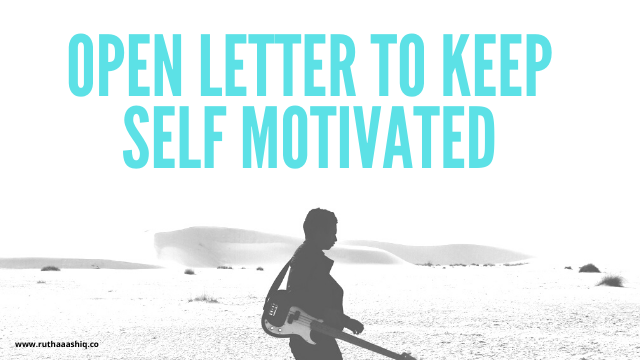 While struggling with a mental breakdown, we from ruthaaashiq wrote some"Open Letter To Keep Self Motivated In English". We always have self-talks while facing hard times. Many open letters are written in order to address psychological conversation. It's okay to be not okay at times. But it is important that we come out of that mind game.
In a series when we fall for one reason, we have some self learnings, which are best and that can't be learned from the outer world. Rather than addressing one person, we are addressing emotions, fears, demons…At the same time, addressing superpower, natural potential, faith that can change each one's life. Open Letter To Keep Self Motivated In English;
You May Also Like:- English Quotes
Open Letter To Keep Self Motivated In English
Open letter to the ones who overthink a lot-

Dear stranger,

A polite and cheerful greeting to you on this beautiful TODAY.

In this new age, new era, new fast life everyone is running to grab things.

When I am looking at you, I see you advanced with more things than before but dissatisfied than what your earlier generation used to be.

I see you impulsive, anxious, and overthinking. You wish to win always and lose to win the present moment.

Holding on to the past, holding on to the future as you expect, and then you keep evaluating yourself and others. "So-called" ambition and care is actually making you overthink and making you avoid life.

Sometimes, I feel you are wrong in thinking that when you will have something or earn something you will be happy.

You are trapped in the thinking process forever in a loop. "Think over" to "overthink" on evaluating -what you don't have

and

-what you have to get to be happy.

I have learned about this downfall of my life. I too cared a lot about life, the future, and people. I used to try to fit in with these ideologies.

But when everything turned around always. And I was ok to lose what was life to me.

There is really nothing to lose in life than life itself. Let life come to you, stay open to what comes and anticipate the same.

The day everything happens as you plan, you are just repeating what you know already.

If you want to really stop to overthink, just think today is the last day of your life, and tomorrow is promised to no one. The thing that will be left to be done is need to be done now!!!

This sounds crazy, but start doing it and you will enjoy the process without anyone's consent.

By chance, if you still land up overthinking and caring, just imagine whatever you thought is with you already or is lost…

Does it make sense with the thoughts? You will break the crazy looped chain of thoughts.(overthinking process)

From the freed mind,
Dear Burnt Heart,

I know you have been going through a lot, watching the sufferings of ancestors and experiencing the same pains coming on our ways.

I have been looking at your defense system for a long time now. You want to protect your heart and future so much, you become nuclear families and moving to loner now.

You are losing trust in everything!

I know coming together takes a lot of adjustments, sacrifice and sometimes the homebuilders lose their entity at their extreme stage.

"We were at one extreme and you are another." I acknowledge that we forgot to enhance the individuality, but you are forgetting what being together means.

It is necessary to reform mistakes… it is an ongoing process for us, for you, for next-generation…

You don't want to be like us, so quitted everything we used to do. You lost trust in us, trust in life, and building so much when you are not satisfied alone you lose trust in yourself.

Happiness is when shared. Trust us, what the time and era were we also wanted to seek happiness. Change for the change but don't lose the good things.

You may move alone but we will stay in you, in the form of lessons, in the form of ideas, history, science, memories, knowledge.

Moving away will make you move away from Yourself.

Take the plant to the future by proper nurturing. Enhance and add mud and wetness that got lost. Removing from the ground, moving from the base, you will have to fall on ground again.

The sky has no limit but the fly always needs a halt.

Yours experienced, Mankind.
Open letter for the negative phase of stress-

Dear stressed friend,

I know you are not able to tell me about your problem to me. But I could feel the vibes from you and I know you are super upset.

I know you in-depth. You are a person who knows to live in Hard times. But these days you are worried about things, you never used to bother. You are not looking to make the best out of things you have!! You are looking to be called as best.

I have been trying to fit into other eyes, and I see, we cannot actually please anyone. Trying to please someone else, the other person will have some complaint with us. Also, we get lost trying to be someone that we are not.

Just find out what you are and other things can be managed. This is right for every human being.

The major reason or the only reason for stress is unable to accept. It's good to bring changes, but with embrace.

Most of the time we keep expecting wrong and don't accept want need to be. Before anyone could assist you with your stress, I think we ourselves need to be. Otherwise, there is nothing in this world that can assist us.

Yes, a healthy amount of stress is required for us to work. But the level of negativity and mental health coming into the discussion, I guess we all need to clear our basics.

With care,

Another Stressed friend.
Open Letter To Keep Self Motivated In English, If you have any open letter to a growing attitude then share your write-up with us. Also, you can comment on your views to let us know your views about emotional games and the concept of writing an open letter.
You May Also Like:- Letter to self